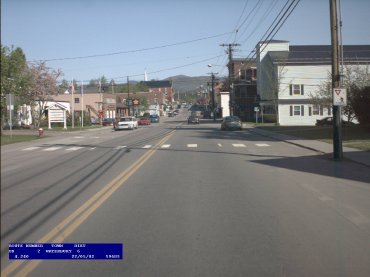 Bi-Annually, the entire Federal Aid Highway System containing approximately 3,862 route miles (7,724 videolog miles) is videologged with an Automatic Road Analyzer (ARAN) videolog system.
Objectives:
To bi-annually videolog the entire Federal Aid Highway and Highway-ramp system using the latest roadway image- and data -collection technology.

Data Collection Schedule:
Even years - Interstate, US, Named State Highways and Vermont routes
Odd years - Major Collector Town Highway routes and Federal Aid Urban routes

To annually update all videolog libraries in VTrans, one library in each Transportation District Office containing a set of forward-view Right-of-Way (ROW) images from the entire highway system and a set of side-view ROW images.

To ascertain user and prospective-user needs, as well as provide on-site familiarization and maintenance of videolog image and data retrieval technology.

To support the Unit's videolog viewing software, as required.

To provide certified videolog images for purposes of litigation, as requested.

To annually collect and process horizontal curvature and grade data for Vermont's submission to the FHWA Highway Performance Monitoring System (HPMS).

To provide specialized image and data collection as required.

To investigate new technologies with the potential to further improve videolog services and operations, and to develop and implement improvements wherever possible.
Access VTrans videologs via iVision.
Please use the guest login unless you have an existing account.
e-mail: AOT.VideoLogs@vermont.gov