The summer camp that takes you places!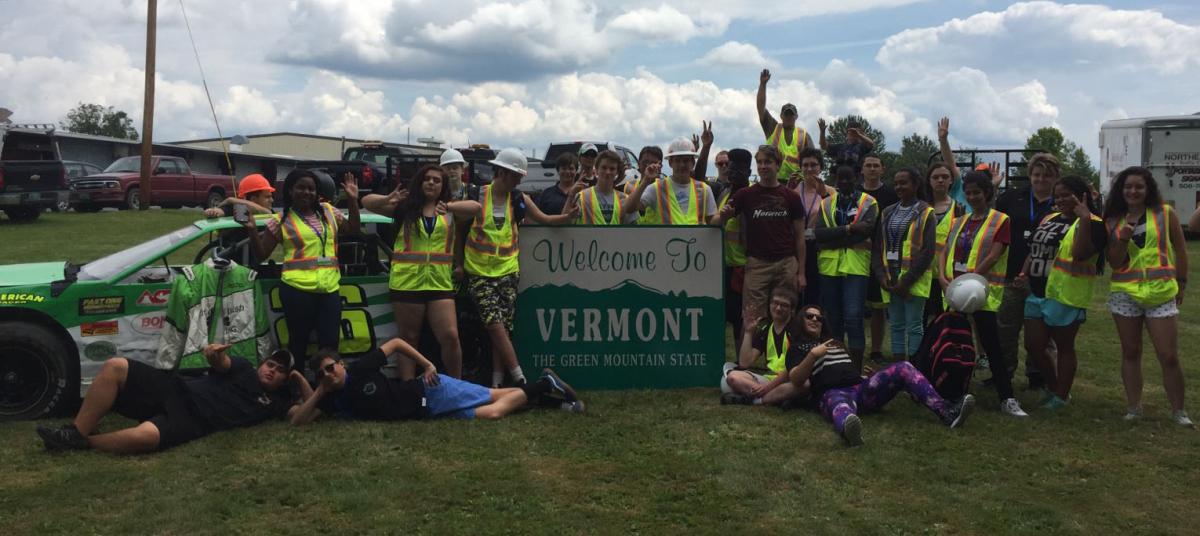 NSTI Field Trip To  VTrans
2017 NSTI Information and Registration
2017 NSTI High School Schedule
The National Summer Transportation Institute is a one-week-long intensive program sponsored by the Vermont Agency of Transportation and Federal Highway Administration. The Institute seeks to aid in developing a diverse and robust workforce for the transportation industry by exposing students to transportation careers. 
 
National Summer Transportation Institute (NSTI) is:
A hands-on exploration of our transportation systems.
Exploring career opportunities and developing new skills.
Learning in the classroom, in group settings, the lab, and on field trips.

Field trips have included the Burlington Airport, a trip on an Amtrak train, Agency of Transportation Headquarters, Bridge Construction sites, and a historic boat trip on Lake Champlain.
Middle School Students
Students get a taste of the college experience, in the classroom, on the campus, on field trips, and with transportation professionals and professors each day.
A one-week day camp for middle school students entering 6th, 7th, or 8th grade.
Held on Vermont Technical College's Williston Campus from Monday, August 7th - Friday, August 11th. 
High School Students
Students spend their time with college professors and transportation professionals in the classroom, on field trips,  and complete the college experience staying on campus eating, learning, playing & sleeping in dormitories at a Vermont State College.  
A one week residential camp for high school students entering 9th, 10th, 11th, or 12th grade.
Held on Vermont Technical College's Randolph Campus from Sunday, July 16th - Friday, July 21st. 
Learn more and to register now visit:  vtc.edu/summer 
It is the policy of the VT NSTI program to encourage applications from students of diverse backgrounds. The broad range of interests and abilities of our participants promotes a rich multicultural experience for our students.
Follow us on Facebook for notifications and updates.
If you have any questions or difficulties in completing any of the application forms, please contact:
Maureen Hebert
NSTI Camp Leader
Tel: (802) 879-2336

Vermont Technical College
Continuing Ed & Workforce Development
PO Box 500
Randolph Center, VT 05061

And Morse
NSTI Program Manager
Tel: (802) 505-1329

VT Agency of Transportation
Office of Civil Rights & Labor
One National Life Drive
Montpelier VT 05633-5001
Fax: (802) 828-1047
*Note: Many of the forms contained on this webpage are only available electronically in PDF format. In order to view and/or print PDF documents, you must have Acrobat Reader installed. To obtain the Acrobat Reader go to http://get.adobe.com/reader/ -After installing Adobe Reader click on the link and wait for the form or poster to load into the viewer.