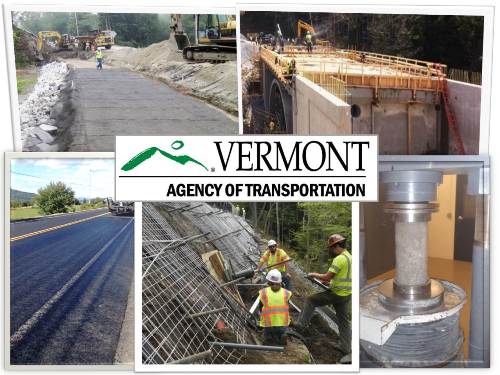 Mladen Gagulic, Construction and Materials Bureau Director
Phone: (802) 828-6405
Mladen.Gagulic@vermont.gov
Jeremy Reed, Construction Engineer
Phone: (802) 828-2593
The Construction & Materials Bureau consists of the Construction Services, Geotechnical Engineering, and Materials Testing & Certification Sections.
The Regional Construction Offices provide oversight of most capital improvement projects with full-time resident engineers, as required by the Code of Federal Regulations. Staff are located statewide, in four regional offices: Colchester, Mendon, St. Johnsbury and Wilder. Construction is collocated with staff from the Maintenance and Operations Bureau in the Colchester and Mendon facilities. The primary tasks of the Regional Construction Offices are: to provide full oversight of contractor work; to ensure timely reimbursement for the work; and, to prepare the required documentation necessary to ensure full federal participation.
The Construction Services Section provides support services to the resident engineers by supplying subject matter experts in Environmental Engineering, Paving, Construction Safety, Structures and Water Testing. In addition, the Construction Services Section includes a Finals Engineer, whose role it is to negotiate final project quantities and authorize final payments to contractors, when all requirements have been met.
The Geotechnical Engineering Section is tasked with providing foundation recommendations for all structures; it is comprised of a subsurface investigation team that takes borings, and a geologist that analyzes rock samples and administers the rock-fall hazard mitigation plan. The group provides slope stability analysis for the highway and rail network, and tests soil and aggregate samples.
The Materials Testing and Certification Section ensures that only quality materials are incorporated into VTrans construction projects. The group provides acceptance testing at our AASHTO accredited facility in Berlin, provides sampling and testing oversight at bituminous and Portland cement production facilities, and includes an Independent Assurance Unit.
~ Sections and Units ~