Submitted by nicholas.cartul... on
The Vermont Legislature has authorized four statewide vehicle incentive programs for income-qualified Vermonters: 1) an incentive program for the purchase or lease of new plug-in electric vehicles (PEVs); 2) a high-fuel-efficiency used-vehicle incentive program called MileageSmart 3) Replace Your Ride, to encourage cleaner alternatives to high-polluting vehicles; and 4) an incentive program for the purchase of an electric bike (e-bike). These programs are described in greater detail below.
In addition, the Legislature has also authorized funding for EVSE (EV chargers) for affordable multi-unit developments and other community charging applications. For those interested in these programs, please visit the Department of Housing and Community Development's page here.­
Incentive Program for New PEVs
Drive Electric Vermont, on behalf of VTrans, administers the statewide incentive program for new PEVs on a first-come, first-served basis. Incentives are available for income-qualified individuals, with greater incentives available for those with lower incomes and for those who purchase all-electric vehicles (AEVs)
Incentives are limited to AEVs with a base MSRP of $45,000 or less or PHEV's with a base MSRP of $40,000 or less. Exceptions to the vehicle price caps are now available for those requiring an accessible vehicle. Check with Drive Electric Vermont for the updated list of eligible vehicles. The statewide incentive may be used in combination with additional PEV incentives offered by the state's electric utilities and federal tax credits for greater savings.
Under the statewide incentive program for new PEVs, eligible customers may receive the incentive directly from a participating car dealer in the form of a reduced purchase or lease price, or they may receive a direct cash reimbursement from the state's incentive administrator, Center for Sustainable Energy.
It is not necessary to be a utility customer to participate in the program. Incentives are limited to one per person per year, as determined by a minimum 12-month lapsed time from a prior state EV incentive, and to Vermont residents only. Incentives are not available retroactively for purchases or leases made prior to the program launch or for purchases or leases made when funds have been exhausted and new funding is not yet available.
For more information, including remaining funds, eligible models, application forms, and a current list of participating auto dealerships, please visit the Drive Electric website at: https://www.driveelectricvt.com/why-go-electric/purchase-incentives.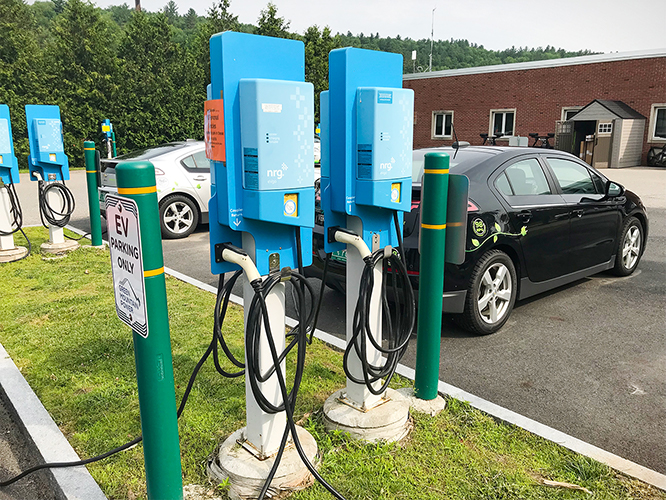 High Fuel-Efficiency Used-Vehicle Program (MileageSmart)
The high fuel-efficiency used-vehicle program provides point-of-sale financial assistance to income-eligible Vermonters to purchase used fuel-efficient vehicles. MileageSmart can contribute 25% up to $5,000 toward the purchase of a used high-miles-per-gallon (MPG) vehicle by program participants. Additional information about MileageSmart, including how to apply, can be found at MileageSmart.com.
Replace Your Ride
Through the FY2022 and FY2023 Transportation bills, funding was approved for a new incentive program, "Replace Your Ride," to encourage owners of older, higher polluting vehicles to switch to cleaner transportation options. Eligible applicants must either meet the lower-income thresholds of the PEV incentive program, or meet the income criteria for the MileageSmart program (80% of State Median Income, based on household size). The program is being launched in two phases: 1. Participants wishing to apply their $3,000 voucher towards the purchase or lease of a new or used PEV have that option in the first phase, which launched September 14, 2022. 2. Phase two will allow participants more flexibility in spending their voucher on active or shared mobility options, with an expected launch by November 2022. It is envisioned that up to $3,000 in incentives will be available to applicants who retire a high-polluting vehicle towards a purchase of either a used or new PEV; a bike, electric bike, or fully electric motorcycle; and/or shared mobility services which reduce the need for vehicle ownership. Incentives through this program may be applied in combination with others through the MileageSmart, PEV, and electric bike incentive programs. More information about the Replace Your Ride program is available at Drive Electric Vermont's website.
Electric Bike Incentive
The eBike Incentive Program launched July 21, 2022, but closed shortly afterwards on September 16, 2022 when the $105,000 authorized in program funding was exhausted.  Vermont residents aged 16 or older were eligible on a first-come, first-served basis for up to $400 towards the purchase of an electric bicycle, with higher incentives for households and individuals with lower incomes.
Incentives were available through participating local bike shops at the point of sale, or as a post-sale rebate for purchases at any retailer (including online). More information can be found here on the Drive Electric Vermont website.
Email Updates
If you would like to receive updated information about any of these new incentive programs directly, please submit an email address below.