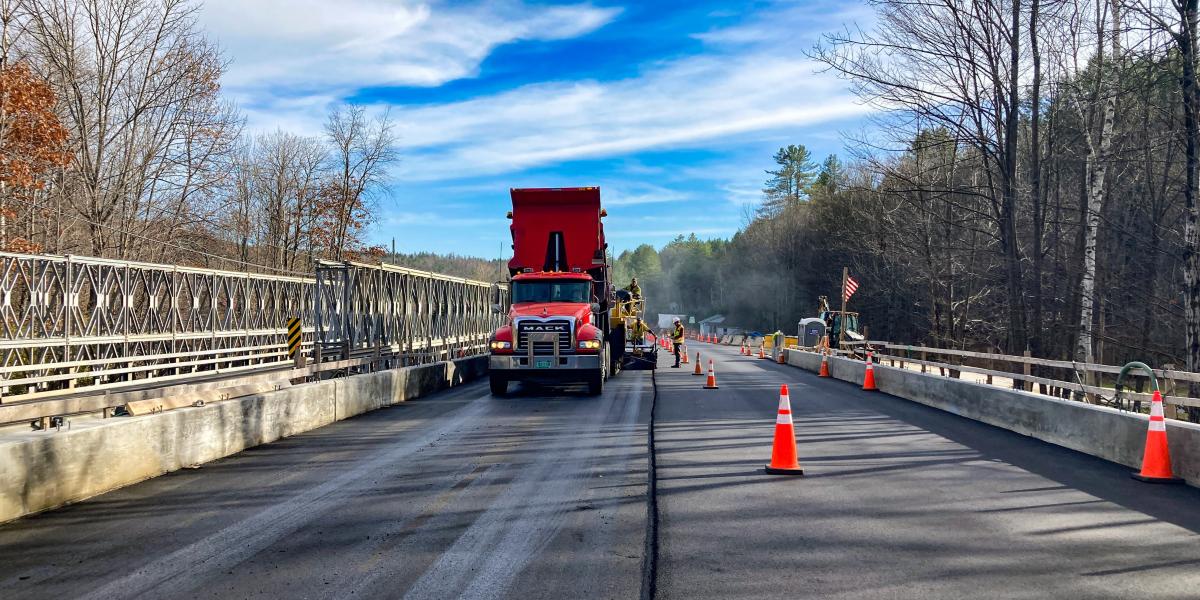 Week of November 21, 2022
Interstates 
I-91 Bradford – Motorists should expect daily lane and shoulder closures in both travel directions in the vicinity of Exit 16.
I-91 Lyndon – Barton – Travelers will encounter daily lane closures in the vicinity of active construction between Exits 23 and 25 on Monday and Tuesday from 6 a.m. to 5 p.m. Crews will wrap at 12 p.m. on Wednesday and resume work the following Monday. Speed is reduced to 55 mph in the work zone.
I-91 Westminster – An interstate bridge deck replacement project over VT 121 is underway. Southbound traffic is diverted onto the northbound barrel and northbound traffic is limited to the right-hand travel lane. Motorists: be aware of a work zone speed reduction. Fines are doubled for speeding within the construction zone.
An alternating one-way traffic pattern is also in effect on VT 121 underneath the bridges.
Around the State 
Alburgh – A deck replacement project is underway on the Mother's Bridge on U.S. 2 over Lake Champlain between North Hero Island and Alburgh. Flagged traffic may be in effect intermittently. Minimal delays anticipated.
Andover – Bridge #9 over Trout Brook on Weston-Andover Rd. reopened on 11/04. Motorists can expect bridge traffic to be reduce to one-lane with flaggers in place to assist motorists as crews install line striping and continue cleanup under the bridge.
Brattleboro – Newfane – A roadway project continues along VT 30 from Cedar Street in Brattleboro to Newfane. A two-lane traffic shift is in place in Dummerston in the vicinity of ledge operations through early December. An alternating one-way traffic pattern will be in effect throughout the project area in various locations through 12/01 at which point the project will shut down for the winter.
Buels Gore – VT 17 will be closed to through traffic on 11/22 from 7 a.m. – 5 p.m. between its intersections with Gore Rd. on the west side to the Mad River Ski Area Parking Lot on the east side of the closure for a culvert replacement.
Chester – A bridge deck replacement project is underway on VT 103 just south of Smokeshire Rd. Motorists should expect lane closures with alternating one-way traffic between 7 a.m. and 4 p.m.
Essex – Two-way traffic will be maintained on VT 289 with lane shifts in place as crews work on final paving from 8:30 a.m. to 3:30 p.m. on Monday and Tuesday, and from 8:30 a.m. to 12:00 p.m. on Wednesday.
Essex – Colchester – Motorists can expect delays along VT 2A with traffic control allowing for one lane of alternating travel within the work area for a resurfacing project.
Hardwick – A paving project continues on VT 14 and VT 15. Motorists should expect lane closures with alternating one-way traffic along both routes between 6 a.m. and 6 p.m.
Montgomery – A set of bridge deck replacements nears completion along VT 118. Motorists can expect minimal delays.
Newfane – The Depot Rd. arch bridge over Rock River is scheduled to reopen before Thanksgiving. Until then, traffic will be rerouted from the north via Grimes Hill Rd. and from the south via VT 30. Through traffic is not permitted. Grimes Hill Rd. and Dover Rd. (at the intersection with Depot Rd.) are reduced to one-lane operations with signals.
North Hero – Grand Isle – Traffic along U.S. 2 has been shifted onto the new drawbridge. Drivers will continue to encounter occasional flagged one-way alternating traffic as crews remove the temporary drawbridge throughout the winter.
Poultney – A bridge replacement project continues at the intersection of Thrall Rd. and River St. approximately 1.37 miles from the intersection of VT 30 and Thrall Rd. Minor flagging operations are expected throughout the week.
Richmond – Bolton – A roadway rehabilitation project continues along U.S. 2. Motorists will encounter areas of one-way alternating traffic Monday through Wednesday during the day within the work areas.
South Hero – An intersection improvement project is underway at U.S. 2 and VT 314. Work will be completed off the roadway with minimal impacts to traffic.
Stowe – Travelers can expect alternating one-lane traffic along VT 100 near its intersection with West Hill Rd. to accommodate road widening work on each end of the project site. Crews will work from 6:30 a.m. - 4p.m. (Monday, Tuesday) and 6:30 a.m. - 12 p.m. on Wednesday.
Wilmington – Brattleboro – A repaving project continues on VT 9. Motorists can expect alternating one-way traffic in Marlboro and Brattleboro as crews continue shoulder, slope, and ditch work.
Woodstock – Hartland – A paving project continues along U.S. 4. Motorists can expect minimal traffic delays throughout the project limits as crews clean drainage inlets.
###