The design and permitting of the LVRT began in 2009. It took several years to inventory and permit the entire length. The trail conversion work includes clearing and grading, drainage remediation, bridge replacements and rehabilitation, sign installations, and crossing improvements. The Vermont Association of Snow Travelers (VAST) began construction on the LVRT in 2014 with the segment from St. Johnsbury to Danville, which was completed in 2015. An additional segment from Morristown to Cambridge was completed in 2017 wtih the replacement of Bridge 68 in Cambridge. VAST completed approximately 33 miles of trail which was funded using 80 percent federal dollars through VTrans, with the remaining amount from town assistance, private donations, and VAST's own investment.
VTrans assumed responsibility for construction of the remaining 49 miles of trail in 2018. The remaining construction includes the rehabilitation of 37 bridges, several hundred culverts, and approximately 20 cattlepasses, repairs to approximately 50 embankment washouts, and dozens of roadway crossings. In 2020, funding for the completion of the LVRT under an accelerated schedule was approved due to the tremendous efforts of Governor Scott which allocated $2.8 million of the Governor's FY2021 budget towards the construction of the LVRT. This funding was matched by $11.3 million in federal funds.
In the summer of 2021, an additional segment opened between Sheldon and Swanton expanding the trail to include a total of 45 miles of completed trail. Three more segments - Danville to Hardwick, Wolcott Village to Morrisville, and Cambridge to Sheldon - were opened to for public use on December 15th, 2022.
The final remaining segment, Hardwick to Wolcott Village, was completed in March, 2023. At present, the Fisher Bridge in Wolcott is not accessible to the public due to ongoing construction. However, it is expected to be open for use by Memorial Day.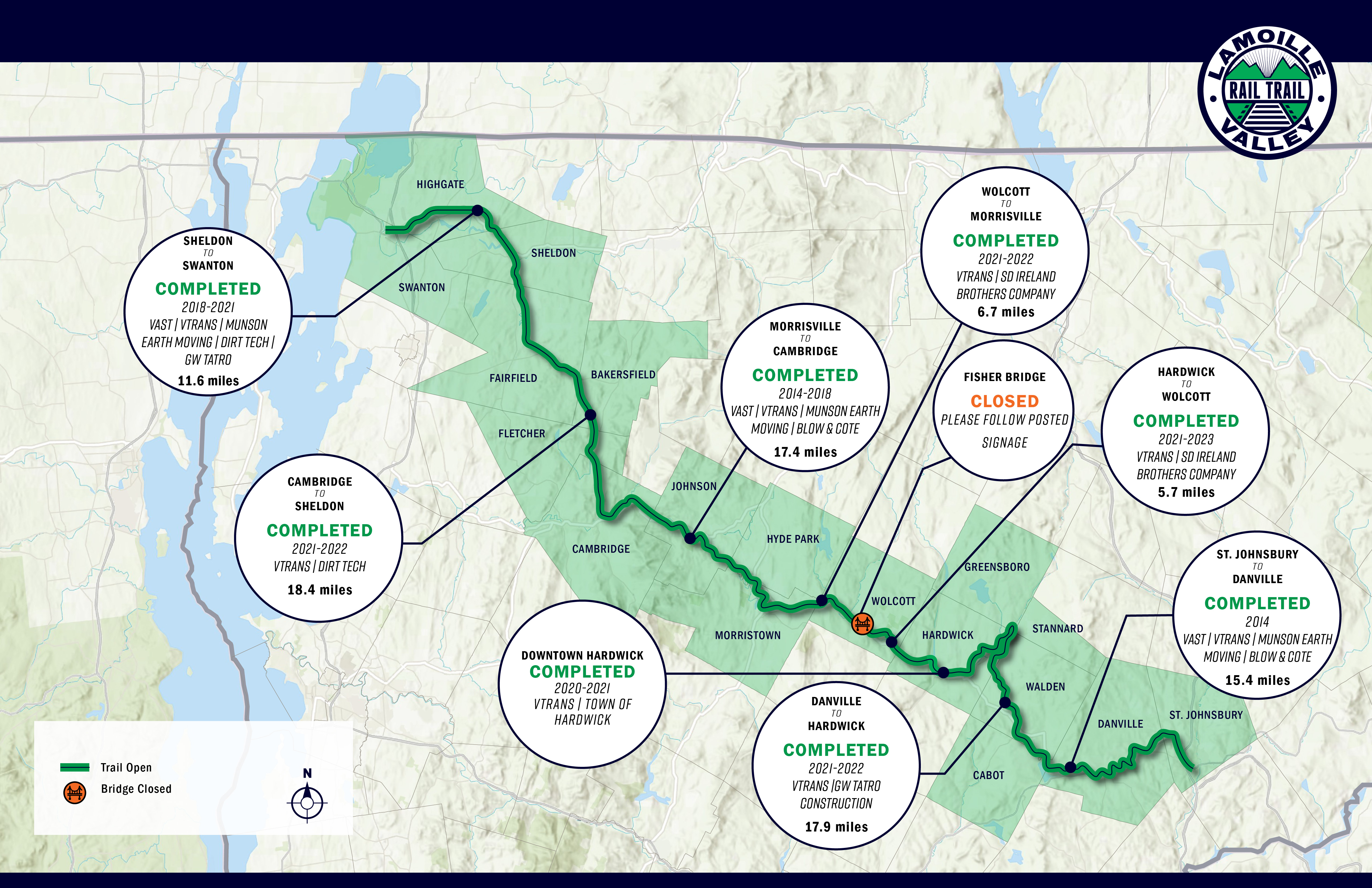 ​Click image to enlarge