The Lamoille Valley Rail Trail is a historic treasure extending across some of Northern Vermont's most beautiful landscapes. The 93-mile trail spans the breadth of Northern Vermont from the Connecticut River Valley to within two miles of Lake Champlain.   The LVRT is a four-season, multi-purpose recreation and transportation corridor for walking, hiking, cycling, horseback riding, snowshoeing, cross country skiing, and snowmobiling. After two decades of research, planning and construction, 33 miles have been opened. The entire Trail is scheduled to be complete and open in early 2023.  The maps below provide information on the open trail segments and active construction areas.  Additional information on parking and other facilities can also be found in the maps below.
Where do I park?
St. Johnsbury -543 Main Street – Trail Head at beginning of LVRT
Danville – Marty's 1st Stop on Rt 2, just east of the village
West Danville – State Park & Ride 2749 US ROUTE 2 W
Morrisville – Oxbow Park
Hyde Park – Main Street and Depot Street
Johnson – Old Mill Park
Cambridge (Jeffersonville) – Cambridge Junction Trailhead and parking, approximately 1 mile from downtown via Greenway Trail, Rt 15 and Rt 108
Cambridge - There are about 20 extra spaces in a mowed field on the right side of Cambridge Junction Road after crossing the Poland Covered Bridge.
Cambridge (Jeffersonville) – Cambridge Community Center trailhead on Old Main St.
What uses are allowed on the trail?
All non-motorized uses are allowed. In the winter snowmobiles also use the trail (and it is groomed by the local snowmobile clubs). Signs posted at trail entrances summarize the allowed uses and expectations.  ATVs and other motorized recreation are not allowed on the trail.
What is the surface like?
The LVRT is a rustic multi-use path constructed with a crushed stone aggregate. The crushed stone is compacted to a firm surface suitable for most bicycles and just about any other use. It is also ADA compliant making the trail available to those living with physical disabilities.
Where can I find print maps of the open trail segments?
You can download the PDF maps linked below. 
LVRT St. Johnsbury to Danville Map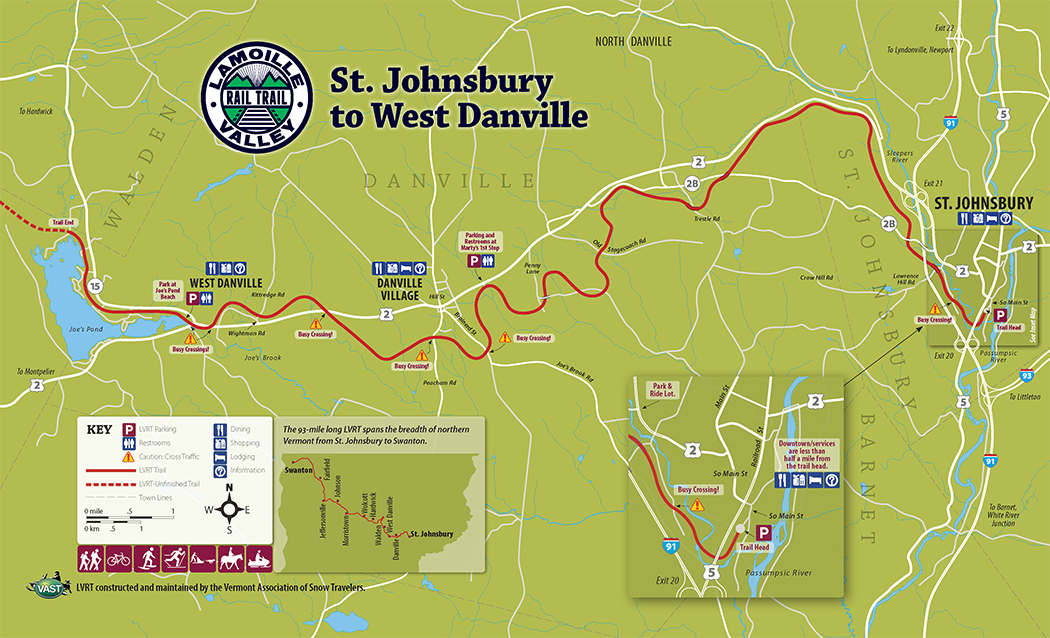 Click image to enlarge and download
This segment begins at the Three Rivers Bike Path at Mont Vernon Street in St. Johnsbury to Channel Drive on the far side of Joe's Pond in West Danville. This section has a plethora of history and natural beauty to offer. More than 15 miles of trail now winds through the forests and farmlands of Caledonia County, shadowing Route 2. The trail features beautiful ledge cuts from the original rail line, as well as long stretches of quiet seclusion. Along the route, there are many different amenities and small business for users to explore in Danville, West Danville, and St. Johnsbury
LVRT Morristown to Cambridge Map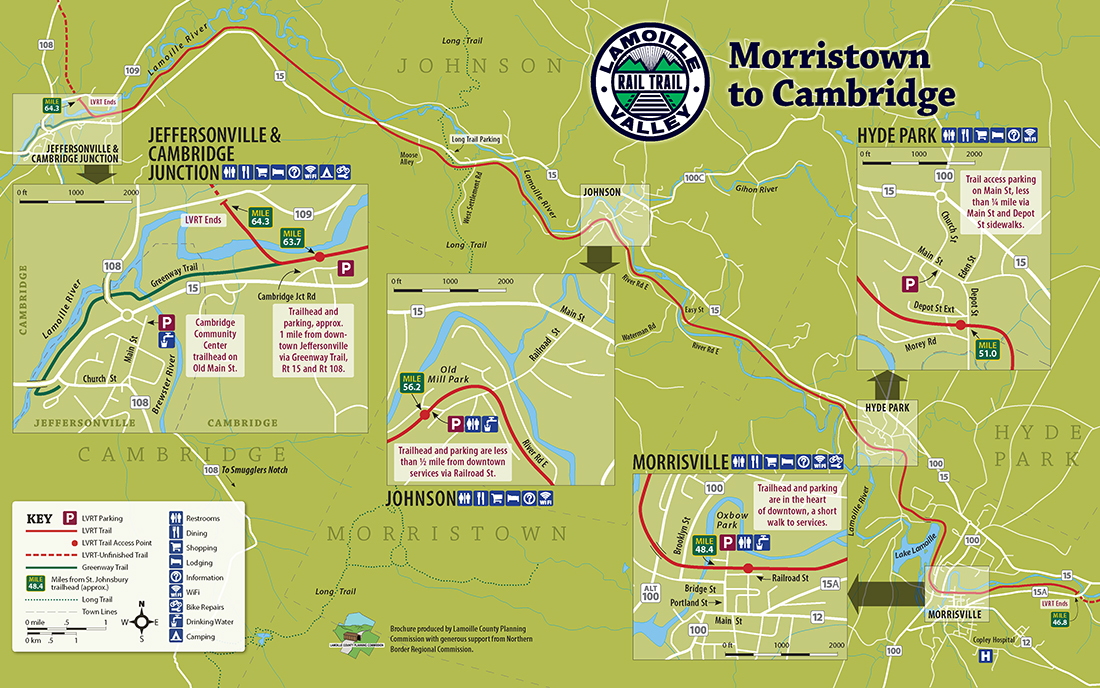 Click image to enlarge and download
This segment follows Route 15 and the Lamoille River from Morrisville through Hyde Park and Johnson, terminating in Cambridge where it connects into the Cambridge Greenway to Jeffersonville.  It stretches for 17 miles through bustling downtowns and serene landscapes. It offers spectacular views of the Green Mountains while exhibiting Vermont's working farms and forests. Users can hop on the trail and support one of the many local businesses along the path while getting out and enjoying the best that Vermont has to offer.