The Vermont Agency of Transportation and the Vermont Travel Information Council have put together the following information to assist Vermont businesses and organizations in establishing signage that complies with state and federal laws.
For more than 50 years the Vermont legislature has made conscious efforts to keep our roads and highways free from unnecessary signs, passing state statutes and adopting federal regulations that govern the size, color and placement of signs. These laws apply to all Vermont businesses.
On-premise Business Signs
If you have an on-premise business sign, it is important to know that there are limitations on location, size, height and structure in order to meet state and federal requirements. No privately owned signs are allowed in the state right of way, which is at least 25 feet from the centerline of the highway, and could be more. To find out exactly where the state right of way is, you may contact the VTrans District Manager in your area to insure compliance with state and federal regulations.
For District map and information
Most towns and cities have sign ordinances as part of their zoning. Contact your town officials to acquire necessary local permits for your on-premise sign. A local permit does not guarantee that your sign will comply with state and federal regulations. At a minimum, an on-premise sign may not be larger than 150 square feet (unless attached to a building), be taller than 25 feet, or be farther than 1,500 feet from the main entrance to the business measured along the highway centerline. On-premise signs are not allowed to face limited access highways.
For State statutes governing signs (10 V.S.A. Chapter 21)
Official Business Directional Sign (OBDS)
Only official traffic control signs and devices are allowed within the highway right of way. One of these signs is an Official Business Directional Sign (OBDS). For information on OBDS and how to apply for them, click the link below:
For OBDS information and application forms (PDF)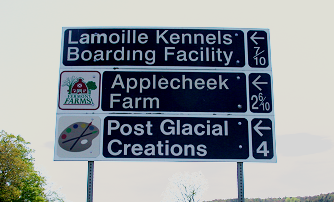 Shown: Assembly of OBDS
Measurements: 16 inches high by 72 inches long
Cost: Application fee, $175.00 per sign
Annual renewal fee, $100.00 per sign
Travel Information Council
According to 10 VSA Ch 21 § 484, the Travel Information Council may make rules relating to the determination of locations for official business directional signs. In making those rules it shall give consideration to the adequacy of information provided by highway directional signs and the preservation of scenic and aesthetic values and shall consult with the Agency of Transportation as to matters of highway safety. It shall determine whether official business directional signs at a particular location shall be displayed in tiers or upon panels. It shall advise the Agency of Commerce and Community Development on policies and matters pertaining to collection and distribution of tourist information. View current council members.
Agendas
Minutes
If you have any further questions regarding proper signage please contact one of the following:
VT Agency of Transportation

Travel Information Council, Chair

Agency of Commerce & Community Development