The Vermont Public Transit Policy Plan (PTPP) will quantify Vermont's transit needs, as well as recommend programmatic and policy initiatives to strengthen the statewide transit system.  This plan will lay out a 10 year vision for improved transit service in Vermont and develop policies and strategies to guide the improvement of Vermont's transit network.
The development of a PTPP every five years is required by Statute (Title 24, VSA, §5089).  The first PTPP was published in 2000 and the most recent version was published in 2012.  This Plan will be an update to the 2012 PTPP and will serve as a guide for the Vermont Agency of Transportation (VTrans) and its partners in making decisions on implementing and funding transit projects that facilitate mobility for Vermonters, minimize duplication of services, leverage limited funds, maximize ridership, and improve coordination of services.   In addition, the PTPP will meet the objectives of the 2014 Human Service Transportation Coordination Plan, including developing an annual workplan for the Elderly and Disabled (E&D) Transportation Program.
VTrans will be working with Steadman Hill Consulting to update the PTPP. The Public Transit Policy Plan is a 15-month process that began in June 2018 and encompasses five phases of work.  Transit policy planning for a state is a complicated undertaking- and the planning process must be flexible.  While each phase has a different purpose, there are times during which multiple phases may be underway at once.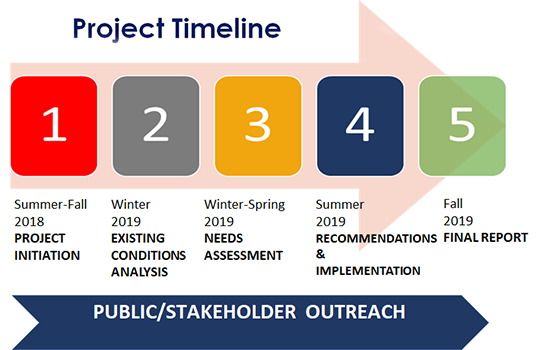 Reports and Background Information
Draft Existing Conditions Report
Draft Needs Assessment Summary Report
Study Advisory Committee Meeting #2 Presentation
Study Advisory Committee Meeting #1 Presentation
2018 Regional Forum Presentations
Previous Plans
2012 Vermont Public Transit Policy Plan
2014 Vermont Human Service Transportation Coordination Plan
Contact
Questions and comments can be directed to Jackie Cassino at jackie.cassino@vermont.gov or 802-272-2368.