The Quechee Gorge Bridge on US Route 4 in Hartford is one of Vermont's most stunning and historic bridges. Rising 165 feet over the Ottauquechee River, it was constructed as a railway bridge in 1911 and converted to a roadway bridge in the 1930s. The Vermont Agency of Transportation (AOT) is planning major rehabilitation to improve safety and to preserve the bridge.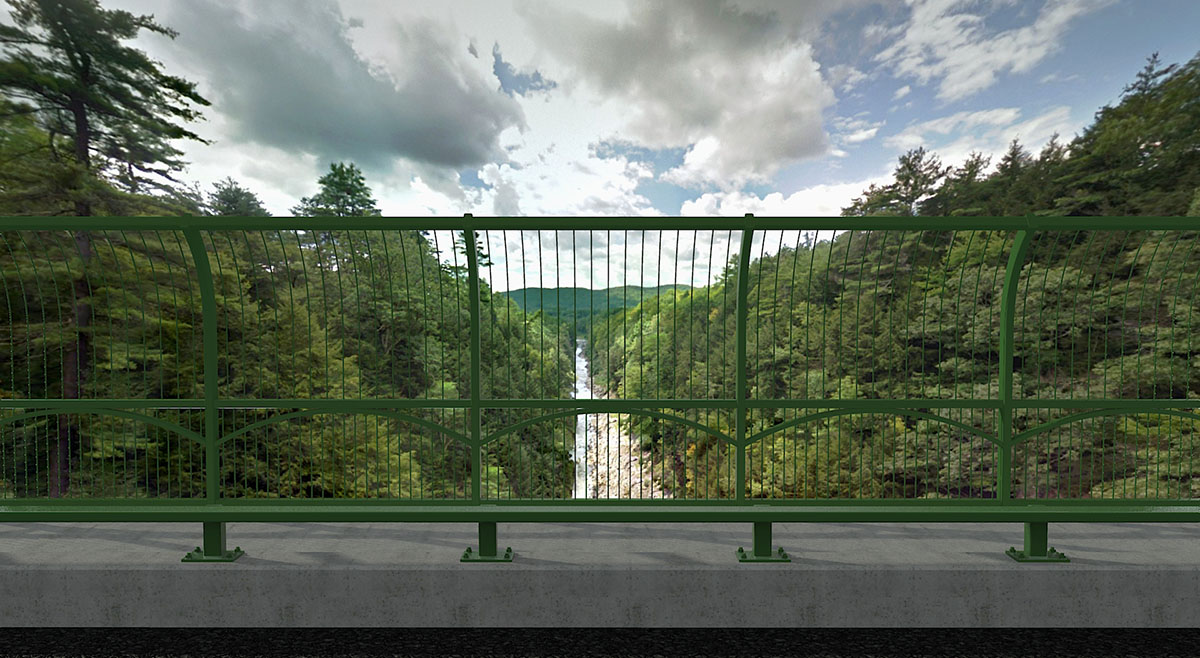 The designer's rendering illustrates the future Quechee Gorge Bridge railing. The team updated traffic management plans to ensure a safe and efficient work zone once the project goes to construction.
Project Update
Thank you for following the Quechee Gorge Bridge construction updates!  As you may be aware, the construction phase of this project has been delayed because of limited federal funds for the 2021 and 2022 construction seasons. The recent passage of the U.S. Congressional Transportation Bill, however, has additional funding that can be applied to this project.
As discussed at the public meetings during the design process, there are several phases of work to be completed on this project. A major part of the project is to rehabilitate, clean, and paint the structural steel arch and framing that support the deck. In addition, a bridge abutment back wall, expansion joints, railings, and new sidewalks connecting all corners of the bridge to parking areas will be constructed.
Traffic will be maintained via one lane of alternating traffic with lights through the project site. This is required to give the contractor adequate space to complete the work underneath and on each side of the deck. This traffic phasing will be in place from mid-March through mid-September of any given construction season.
The project design consultant and agency staff recently met regarding the advertising and construction schedule for the project.  It is necessary to extend the time in the contract for construction.  One reason for this is that the construction and material supply industry is significantly different today than when developing the preliminary plans for the project. The delivery of material is now taking longer, and construction companies are having issues hiring and keeping qualified staff.  In addition, the project work will stop, and two lanes of traffic will be restored (including both sidewalks) on approximately September 20th of each year for the fall foliage tourism season. This early construction shutdown significantly reduces the construction time in any given year. Therefore, the construction duration will be extended from two full seasons to 3.5 seasons.
Vermont Agency of Transportation will advertise this project in September of 2022 and have a bid opening in October 2022.  This early advertising will give contractors adequate time to submit work plans for approval and be prepared to start construction in Spring 2023.
The Vermont Agency of Transportation looks forward to a successful completion of this project.