Construction Update
The Hartford Quechee Gorge Bridge project, NH 020-2(45) was advertised for construction bids on August 10, 2022. Although several construction companies had attended the mandatory pre-bid meeting, only one submitted a bid by the September 23, 2022 due date. The Vermont Agency of Transportation determined that  the bid was not feasible and was thus rejected.
The Agency is currently re-evaluating the project requirements included in the contract to determine what can be modified, while maintaining the project intent, to generate more interest amongst the contracting community.  The Agency expects to re-advertise the project in Spring 2023.
An updated project schedule will be posted at a later date.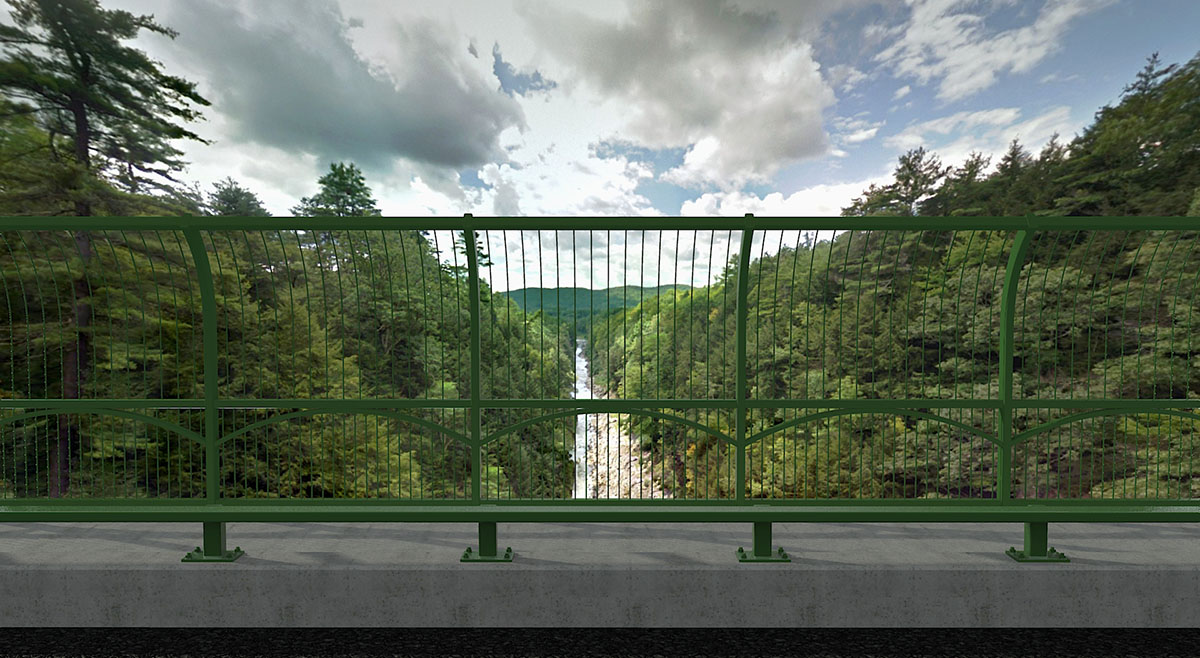 The designer's rendering illustrates the future Quechee Gorge Bridge railing. The team updated traffic management plans to ensure a safe and efficient work zone once the project goes to construction.
About the Project
The Quechee Gorge Bridge on US Route 4 in Hartford is one of Vermont's most stunning and historic bridges. Rising 165 feet over the Ottauquechee River, it was constructed as a railway bridge in 1911 and converted to a roadway bridge in the 1930s. The Vermont Agency of Transportation (AOT) is planning major rehabilitation to improve safety and to preserve the bridge.
There are several phases of work to be completed on this project. A major part of the project is to rehabilitate, clean, and paint the structural steel arch and framing that support the deck. In addition, a bridge abutment back wall, expansion joints, railings, and new sidewalks connecting all corners of the bridge to parking areas will be constructed.
Traffic will be maintained via one lane of alternating traffic with lights through the project site. This is required to give the contractor adequate space to complete the work underneath and on each side of the deck. This traffic phasing will be in place from mid-March through mid-September of any given construction season.
Vermont Agency of Transportation has extended the construction timeframe from two full seasons to 3.5 seasons. One reason for this is that the construction and material supply industry is significantly different now than when developing the preliminary plans for the project. The delivery of material is now taking longer, and construction companies are working hard at maintaining their qualified staff.  In addition, the project work will stop, and two lanes of traffic will be restored (including both sidewalks) on approximately September 20th of each year for the fall foliage tourism season. This early construction shutdown will reduce the construction time in any given year.
The Vermont Agency of Transportation looks forward to a successful completion of this project!