The Quechee Gorge Bridge on US Route 4 in Hartford is one of Vermont's most stunning and historic bridges. Rising 165 feet over the Ottauquechee River, it was constructed as a railway bridge in 1911 and converted to a roadway bridge in the 1930s. The Vermont Agency of Transportation (VTrans) is planning major rehabilitation to improve safety and to preserve the bridge.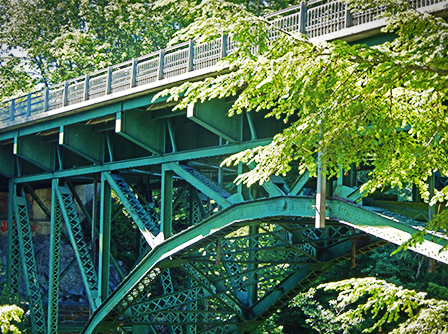 Some 100,000 tourists are drawn to the 285-foot bridge annually for its views.
Semi-Final Design Public Meeting Held on October 3, 2019
A public information meeting to review semi-final design options for the Quechee Gorge Bridge Rehabilitation Project was held on Thursday, October 3 at 6:30 p.m. at Hartford Town Hall. View the presentation.
At the meeting, VTrans reviewed public survey results, and sought public opinion on design options for the lower section of the barrier fencing as well as preferences for various shades of green paint for the bridge steel. The team also shared how it has refined plans for new sidewalks and the sidewalk safety railing.
Since April, the project team has been refining and reviewing design elements to prepare bid documents for contractors who want to undertake the bridge rehabilitation project. Final plans for the project will be developed in 2019-20 and rehabilitation will begin in 2021.