​CONSTRUCTION UPDATE 
DATE: Friday, May 20, 2022
TRAFFIC IMPACT AND DURATION: 
On Sunday, May 22, at 6:00 p.m., night work will begin on Shelburne Street with lane reductions and alternating one-way traffic. The full roadway closure will take effect at 8 p.m. between Ledge Road and Hoover Street. Nightly closures of Shelburne Street will continue through the week, Sunday, May 22 to Thursday, May 26, between 8:00 p.m. and 6:00 a.m.
During the nighttime closure of Shelburne Street, motorists will be directed to use the existing signed detour using Howard Street, Pine Street, and Flynn Avenue. Residential access to Adams Court and Gove Court will be maintained. Flaggers will be present to assist residents through the closure area. Access to businesses within the closure area will be maintained, however, patrons should expect delays when traveling through the work zone.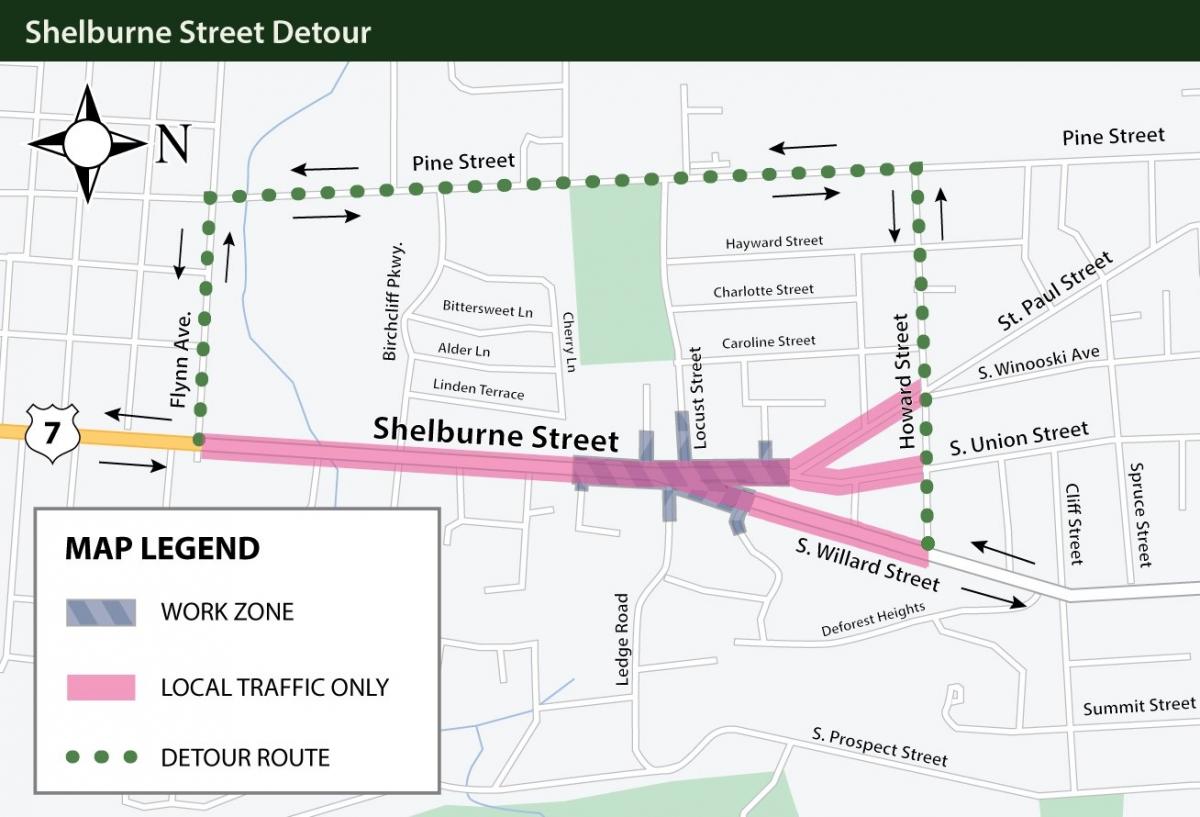 Shelburne Street will reopen to a single lane with alternating one-way traffic between Ledge Road and Hoover Street throughout the daytime hours between 6:00 a.m. and 8:00 p.m. starting Monday, May 23, and continuing through Friday, May 27. Please note, that the open travel surface will be gravel during this time. Motorists should expect significant delays.
During the daytime hours, when Shelburne Street is reduced to one lane with alternating one-way traffic, motorists are strongly encouraged to continue to use the detour route and avoid the area. Delays through the work zone will be significant. Flaggers or a Uniformed Traffic Officer will be present at the intersection of Howard Street and Pine Street to direct traffic.
South Willard Street will remain closed to through traffic between Shelburne Street and Howard Street. Motorists traveling northbound will be directed to take Shelburne Street to St. Paul Street to Howard Street. Motorists traveling southbound on South Willard Street will be directed to take Howard Street to St. Paul Street to Shelburne Street. The detour will be in place 24 hours a day for several weeks. This closure and detour will be signed. Residential access will be maintained.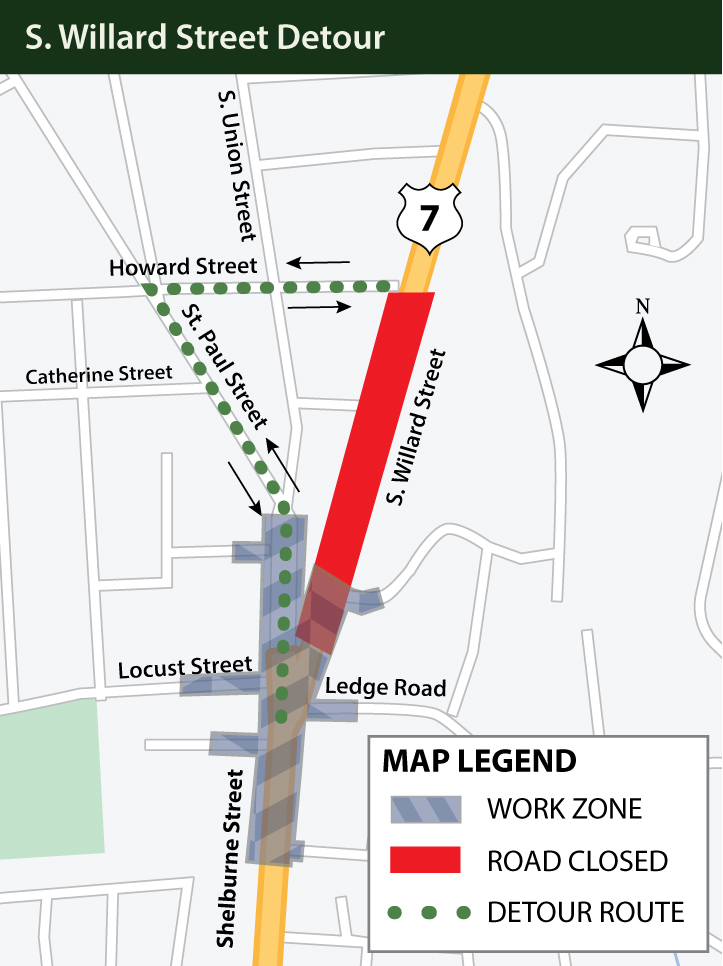 At all times, trucks are required to use the truck detour shown below. 
Northbound trucks follow the detour to Flynn Avenue, Pine Street and Main Street.  Southbound trucks are detoured down Main Street, to Pine Street to Flynn Avenue to U.S. 7/Shelburne Street. Trucks seeking to make pick-ups or deliveries to businesses within the detour area will have access to locations within the work zone but may experience delays.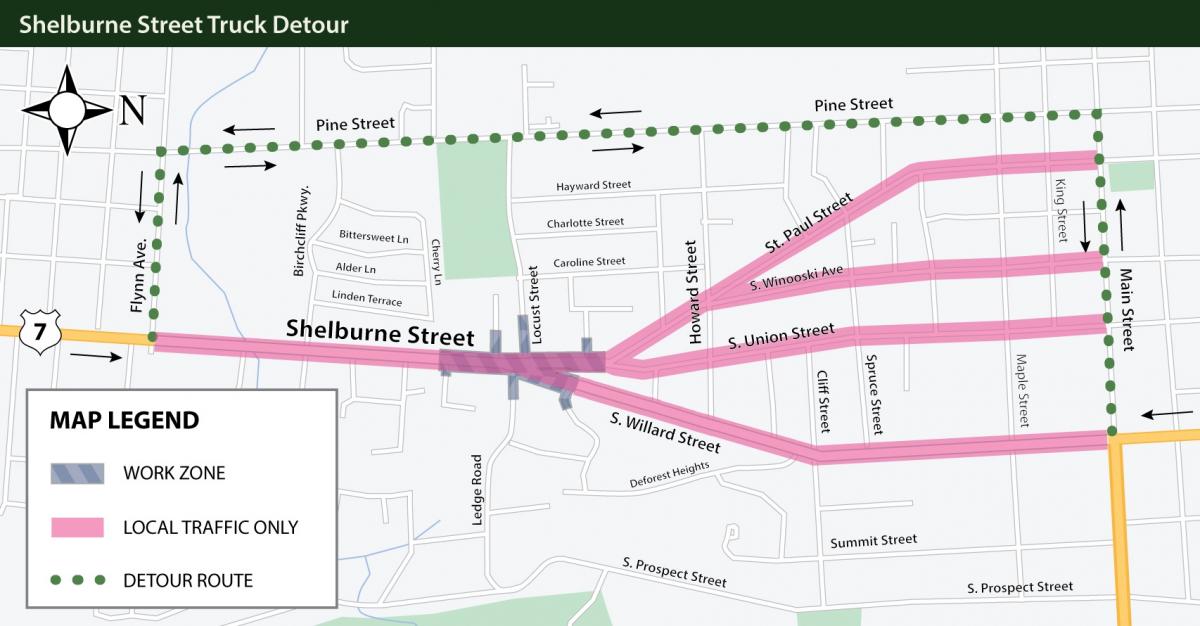 Please be advised that pedestrian routes throughout the project area will change frequently as work progresses on the road and sidewalks.  Pedestrian access will be maintained, and routes will be signed.
Rough and inconsistent road surface conditions will continue throughout the project area. Road surface conditions will vary between pavement and gravel. These conditions will remain in place throughout the fall of 2022 as construction of the new roadway continues. Users are reminded to slow down, stay alert, and use caution when traveling throughout the project area.
Please note, that work in the coming months will include permanent changes to the roadway alignment and significant delays are to be expected through the duration of this work.
CONSTRUCTION ACTIVITIES:  
Starting Sunday, May 22 through Friday, May 27, construction activities include removing the existing road base, backfilling, and paving an approximately 450-foot segment of Shelburne Street between Gove Court and Adams Court. Nighttime activities will consist of excavation and material removal with limited backfill and compaction work. During the overnights, crews will work to minimize light and noise disruptions to the extent possible. Compaction and backfilling will be completed during the daytime hours. Crews will be working to install permanent concrete sidewalk along the east side of Shelburne Street between Adams Court and the start of the shared use path near 114 Shelburne Street. This work will require driveway closures along Shelburne Street. S.D. Ireland will notify residents impacted by this work directly.
On Monday night, ECI will be on-site to complete work on the sewer lateral on Shelburne Street near Berkshire Hathaway. Monday, May 23 through Tuesday, May 24, Burlington DPW will be completing sewer service work on the east side of Shelburne Street just north of Adams Court within the existing closure area. 
Click here for additional project progress photos!
LOCATION: The Shelburne Street Roundabout project is located at the intersection of U.S. 7 (Shelburne Street, South Willard Street), ALT U.S. 7 (Shelburne Street) Locust Street and Ledge Road in the City of Burlington, VT. The U.S. 7 project limits extend from Shelburne Street at Adams Court to South Willard Street at Chittenden Drive and on Shelburne Street along ALT U.S. 7 at Marian Street. Work will also be conducted on the following side streets: Gove Court, Locust Street and Ledge Road. 
PROJECTED COMPLETION: Summer 2023
PROJECT INFORMATION MEETING RECORDING AND SLIDES
View the recording from the Project Information Metting on Tuesday, September 14, 2021. CLICK HERE
View the slide deck from the Project Information Meeting on Tuesday, September 14, 2021. CLICK HERE
SHELBURNE STREET ROUNDABOUT PROJECT
The Vermont Agency of Transportation (VTrans) and the Burlington Department of Public Works (Burlington DPW) are improving roadway conditions for all users along US Route 7 (Shelburne Street) in Burlington. This joint initiative includes street reconstruction and the construction of a new single-lane roundabout at the intersection of US Route 7 (South Willard Street), US ALT Route 7 (Shelburne Street), Ledge Road and Locust Street. The project also includes the addition of a designated left turn lane onto Ledge Road and the installation of new pedestrian and bicycle facilities. Furthermore, the project will improve signage, street lighting, drainage, stormwater runoff treatment, and relocate and consolidate utility transmissions underground. The project was awarded to S.D. Ireland Brothers of Williston on May 1, 2021. Construction is expected to begin in 2021 and continue through July 2023.  
Want to learn more about the Shelburne Street Roundabout? Watch these videos!
Shelburne Street Roundabout Introduction
Navigating the Shelburne Street Roundabout