The Vermont Agency of Transportation (VTrans) and the Burlington Department of Public Works (Burlington DPW) are improving roadway conditions for all users along US Route 7 (Shelburne Street) in Burlington. Following a 2002 Shelburne Road Rotary Redesign Project report, the area was deemed a high crash location. The Report identified issues with the intersection, including excessive traffic queuing during peak commuting times, an increase in local and commuter traffic, increasing traffic speeds through the existing rotary, and difficulties for pedestrians to cross the rotary. This joint initiative includes enhancements designed for safety, capacity, and in compliance with the State's Highway Safety Improvement Program (HSIP). Project elements include:
The construction of a single-lane roundabout at the intersection of US Route 7 (Shelburne Street, South Willard Street), US ALT Route 7 (Shelburne Street), Ledge Road and Locust Street;

The addition of a turn lane onto Ledge Road for southbound left-turning traffic;

The relocation and consolidation of buried utilities

Dedicated pedestrian facilities and shared pedestrian/bicycle facilities;

The installation of new signage, pavement markings, street lighting, drainage and stormwater runoff.
The installation of a modern single-lane roundabout along Route 7 offers a multitude of benefits including;
Provide continuous traffic flow at low speeds;

The geometry of the roundabout focuses user's sightlines;

The roadway will handle up to 19,200 vehicles per day without needed additional lanes;

Expected to reduce crashes by up to 72% (per FHWA CMF Clearinghouse);

All left-turns lanes become right-turn lanes which makes the roadway more predictable for users;

Crosswalks will be shorter in length for pedestrians and will be in highly visible locations;

Buried utilities will be relocated and consolidated in duct banks for easy and safe maintenance accessibility;

New buried sand filters and detention vaults to treat previously untreated stormwater runoff without surcharging existing accepting systems;

Area drive accesses will be controlled;

The central island will create an opportunity for aesthetic treatments (creation of a city gateway).
Funding for the Shelburne Street Roundabout Project comes from the State's Highway Safety Improvement Program (HSIP) and qualifies for 100% federal funding.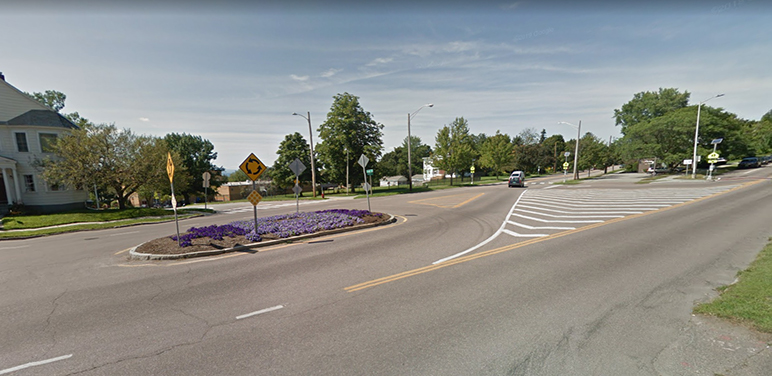 Project History:
2002 – Burlington DPW staff began work with consultants to develop design alternatives and estimated project costs for improvements to the rotary intersection of Shelburne Street, Locust Street, South Willard Street and Ledge Road. Two alternatives were identified and described: a roundabout accommodating four or five of the streets and a signalized intersection accommodating four or five of the streets. The City pursued inclusion of the project in the Chittenden County Regional Planning Commission (CCRPC) work plan to secure funds and position the project in the Transportation Improvement Program (TIP) either as a highway project or with funds provided by the State of Vermont Enhancement program.
2007 - VTrans notified the City that this intersection had risen in prominence on the list of the State's High Crash Listings (HCL) and that there were funds available to take corrective action through the State's Highway Safety Improvement Program (HSIP). Since the identification of the intersection as a high crash location, the 2002 Study needed to be reviewed and updated. City staff, VTrans staff and CCRPC staff met to identify actions required to update that work and hired Resource Systems Group, Inc. (RSG) to complete the study and facilitate the identification of a preferred alternative. The RSG process included:
Review past studies and intersection analyses
Prepare 2009 and 2019 Design year traffic volumes
Evaluate intersection traffic scenarios including signalized and roundabout design options
Prepare Interim Study Memo
Prepare detailed conceptual design drawings over orthophotos for the options that adequately improve traffic flow and safety through the study area
Present refined traffic analyses and conceptual designs to the Steering Committee
Finalize conceptual designs and prepare the order of magnitude cost estimates
Meet with the public
Issue Final Study Report
Present the results of this work and identify a preferred alternative at a public meeting
2008- On November 13, 2008, a public meeting was held to consider the alternatives for the intersection redesign. Following the public meeting, the Public Works Commission recommended the design and construction of a single-lane roundabout. The Transportation, Energy and Utilities Committee (TEUC) of the City Council then selected a single-lane roundabout in the footprint of a two-lane roundabout, to accommodate the potential for future expansion
2009- Federal Highway Administration (FHWA) approved and obligated funds for VTrans to commence the project's design, which is currently underway, managed by VTrans' Traffic Design Section as project number HES 5000(18).
2015- Clough Harbour and Associates (CHA) and CARDNO were contracted to locate the subsurface utilities in the project vicinity, excavating a portion of the project area in order to locate utility depth and conflict points accurately.
2019- VTrans and DPW secured all rights-of-way required for the construction of the proposed single-lane roundabout.
2020- A joint investigative project between VTrans and the Vermont Department of Environmental Conservation (DEC) launched within the project site to determine levels and types of contaminated soils and groundwater to be characterized such that they can be properly handled in the event they are encountered by the contractor during construction.
Project Schedule:
Dig Safe and environmental sample collection: June 2020
Drilling for borings: June/July 2020
Sewer Relining: Summer 2020
Bid Advertisement: April 2, 2021
Contract Award: May 1, 2021
Construction Start: Spring 2021
Construction Completion: 2023
Project Team:
VTrans Project Manager: Michael LaCroix
Burlington Department of Public Works Project Manager: Olivia Darisse, P.E.
Designer: VTrans Traffic Design Section
Contractor: S.D. Ireland Brothers
Public Information Consultant: WSP, USA Inc.
Project Location:
The project is located at the intersection of US Route 7 (Shelburne Street, South Willard Street), ALT US Route 7 (Shelburne Street) Locust Street and Ledge Road in the City of Burlington, VT. The US Route 7 project limits extend from Shelburne Street at Adams Court to South Willard Street at Chittenden Drive and on Shelburne Street along ALT US Route 7 at Marion Street. Work will also be conducted on the following side streets: Gove Court, Locust Street and Ledge Road.
Existing Conditions:
The City of Burlington has four major accesses to the City and Route 7 serves as one. Particularly on the southern segment, Route 7 provides the primary transportation access to the western side of Vermont. Route 7 serves as the principal gateway to Burlington from the south. 
The current intersection of US Route 7, ALT US Route 7, Locust Street and Ledge Road is a 5-approach intersection in a residential neighborhood with schools and small businesses in the area. The rotary intersection is too small and restrictive for certain movements, and there is limited sight lines and sight distance. The existing intersection has developed user safety issues over the years due to a change in commuting patterns, high vehicular speeds, lack of dedicated bicycle facilities and difficulties for pedestrians crossing the streets. The intersection has been listed on VTrans' High Crash Location list since at least 1998. In addition, the underground utilities are aging, and the area lacks modern stormwater treatment.
A 2002 Shelburne Street Rotary Report identified that during peak hours, cars experience difficulty entering the roadway from both local side street (Locust Street and Ledge Road) as well as the more significant city streets (South Willard and South Union). The Report identified the need for the roadway redesign evidenced by:
Frequent traffic jams, especially at South Willard Street causing delays;

Frequent interruptions in traffic flow;

Traffic that travels at inappropriately high speeds;

Poor access for pedestrians and bicyclists along the roadways and intersection;

Poor visual quality of the landscape and improvements at the intersection;

Difficulty experienced by motorists at egress of side streets near intersection.