_______________________________________________________________________ 
Funding is Available for Innovations in Transportation – You're Invited to Submit a Proposal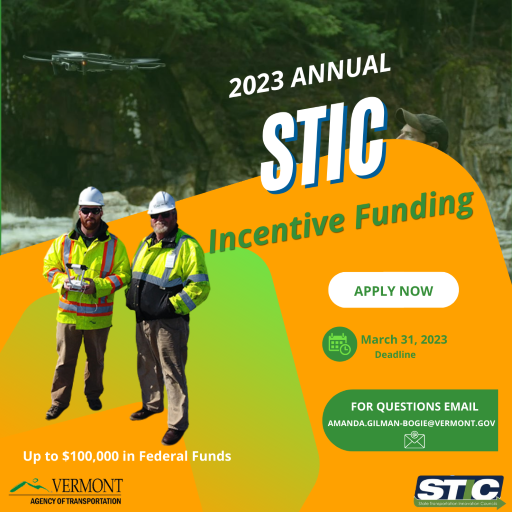 Do you have an idea of how to improve our state's transportation system, streamline work processes, or implement meaningful change? Vermont's State Transportation Innovation Council (STIC) Incentive program provides resources (up to $100,000 in Federal funds per Federal fiscal year) to foster a culture for innovation and make innovations standard practice; and your idea could be the catalyst for an exciting innovation within AOT! For example, STIC Incentive funding may be used to conduct internal assessments; build capacity; develop guidance, standards, and specifications; implement system process changes; organize peer exchanges; offset implementation costs; or conduct other activities that foster a culture for innovation or to make an innovation a standard practice in Vermont. Projects of varying sizes and scope are welcome. Applications are being accepted through March 31, 2023 (click the link below to be directed to either a fillable PDF or a Word document with additional information on how to apply). 
MS Word Format Application & Instructions 
---
                                                                   _______________________________________________________________________ 
The Vermont State Transportation Innovation Council (STIC) was established to create and support a culture of innovation within the state of Vermont and the Agency of Transportation (AOT) by leading deployment of new technologies and practices. The committee provides a forum for Vermont's transportation leadership to review and collaborate on initiatives, research and innovative ideas that align with the goals of the agency and state.
Participation in STIC:
• Gives transportation stakeholders a forum for sharing innovative ideas.
• Empowers participants to improve processes, enhance communities, and save tax dollars.
• Allows stakeholders to deepen working relationships at the agency, State, and Federal levels.
• Provides opportunities to access resources such as STIC Incentive funding (up to $100,000 available each year).
---
History
In 2010, FHWA implemented the Every Day Counts (EDC) initiative to shorten project delivery and expedite the deployment of proven technologies. FHWA introduced the STIC concept to state DOTs and industry partners as a process to facilitate the EDC initiatives. Vermont established a STIC in 2014.
 ___________________________________________________________________