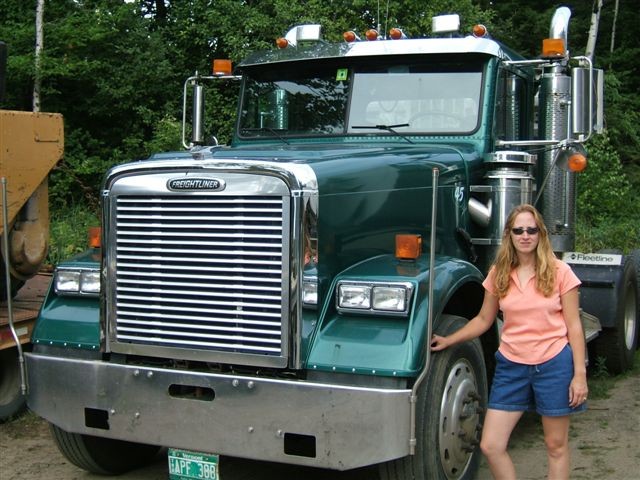 Commercial Driver Training (CDL) Funding is an Equal Employment Opportunity affirmative action program. Increasing training opportunities for members of minority groups, women and other populations that are underrepresented in Vermont's highway construction and transportation industries is a primary objective.
Eligible candidates must be a woman, minority and/or disadvantaged person. A disadvantaged person is defined as someone who is participating in a Workforce Innovation & Opportunity Act (WIOA) program through a state Department of Labor. The disadvantaged person must meet the WIOA "priority populations" eligibility requirements. Candidates must also be at least 18 years old and have a valid Vermont state drivers license. 
On a continuous basis, we offer funding (up to $1,500) to participants to use towards the cost of CDL classes through the following state-approved Commercial Driver Training Schools:
****Please note that CDL training may be impacted by COVID-19****
How to apply for our funding:
Decide which Commercial Driver Training School you want to attend. Use the links provided above to choose the school and training program that best fits your needs. Things you may want to consider are the location (some schools offer training in multiple locations), the days/times classes are offered, whether the school has a simulator on site, if they offer individual coaching and if they help with job placement. Some schools also offer language and literacy assistance.

Complete our secure online application. You should receive a confirmation email once you submit it. Those email messages may go into Junk email boxes, so make sure you check there. Please contact Karen at (802) 917-8388 if you have difficulties with the application.
If you are approved for funding, the school will bill VTrans for half of the awarded amount when you earn your permit and the remaining amount when you earn your license. You will be required to make sure the school has a copy of your permit and commercial drivers license so they can bill us for the funding.
These training programs provide the following services:
CDL A:
A state-approved driver training program for entry-level tractor-trailer drivers. 
CDL B:
A state-approved driver training program for straight truck drivers. 
Upgrade:
Drivers holding Class B CDL licenses can receive training to upgrade to a Class A license.
All courses provide a combination of classroom, range and on-the-road instruction. Each of them helps prepare prospective truck drivers for taking CDL written and skills tests. Classroom instruction includes topics such as defensive driving; logbook and hours of service; map reading and trip planning; vehicle inspection; and customer relation skills. Range and on-the-road instruction includes topics such as turning; shifting; normal and panic stopping; alley dock; safe backing skills; and conventional parallel parking. Vehicles are provided for students to take the CDL skills test. All tests are given at DMV test sites. Students are required to undergo a physical exam and drug screening by a nationally certified examiner.
To find out more about the Department of Motor Vehicle (DMV) requirements for the Commercial Drivers Licenses, please visit their website. Use the following link to download the DMV Commercial Driver's Manual.
For the purpose of diversifying the workforce in highway construction, the term "minority" refers to women of any ethnicity and men of any ethnicity group that have historically faced discrimination or systemic socio-economic disadvantage, so much that there is a noticeable lack of diversity in the industry. The program is funded by the Federal Highway Administration and is a direct result of the Civil Rights Act of 1964, for the purpose of advancing non-discrimination and creating equal opportunity.
Not eligible for our funding? Need additional funding to pay for the course? Here are some other options you may want to consider:
The Vermont Student Assistance Corporation (VSAC) gives out Advancement Grants that may be used towards CDL training. Visit their website to learn more about grant eligibility requirements and how to apply. 
The Vermont Department of Labor's Workforce Innovation and Opportunity Act (WIOA) programs may be able to provide some assistance. To find the nearest Career Resource Center where you can talk with someone about program eligibility requirements, click here.
For more information contact:
Karen Brouillette
Civil Rights Program Coordinator
Tel: (802) 917-8388