This website describes the permitting process required to test an automated vehicle on state and town highways in Vermont.  It provides a link to the Vermont Automated Vehicle Testing Permit Guidance and Application and provides general information about automated vehicles. The Agency is currently seeking comments on the Draft Permit Guidance and Application, which was released in April 2020. There are currently no permit applications under consideration. Information about specific permit applications and testing will be provided on the site in the future.
Traffic Committee Hearing on Automated Vehicle Testing Permit Guidance and Application, Final Draft
The Vermont Traffic Committee will be conducting a hearing on Thursday, October 15, 2020 from 1:00- 3:00 PM to inform its decision on whether to approve the Final Draft of the Automated Vehicle Testing Permit Guidance and Application (September 1, 2020 version). The Final Draft is available at the link below.   
The Guide implements the AV Testing Act and describes the process and requirements to obtain a permit to test automated vehicles on state and town highways in Vermont. The Guide is intended for use by applicants who are seeking a permit to test automated vehicles on public roads in Vermont and municipalities that are considering allowing testing on town highways under their jurisdiction. It also serves as a guide to the Vermont Traffic Committee, whose approval is required for all automated vehicle test permits in the state, in its deliberations over specific permit applications.
A public information meeting was conducted on June 19, 2020 by the Agency of Transportation to describe the April 24, 2020 Public Draft of the Guidance and to gather comments. Comments were also received in writing following the meeting. The Response to Comments Document is available at the link provided below and lists all the comments received and the Agency's response.
The following documents are available to prepare for the public hearing:
Click Here for the Final Draft of the Automated Vehicle Testing Permit Guidance and Application (September 1, 2020)
Click Here for the Agency's Response to Comments
Click Here to see the changes made between the April 24, 2020 Draft and the September 1, 2020 Final Draft of the Guidance and Application.
Click Here for a video of the June 19, 2020 Public Information Meeting.
How to Participate in the October 15, 2020 Traffic Committee Public Hearing
The public hearing will be conducted online. The following information will be posted on this website by Thursday, October 8th:
Meeting link and phone number
Meeting agenda
Meeting presentation
Voluntary Pre-Registration
Pre-registration for the public hearing is not required but would be appreciated to help us prepare for the logistics of running an online meeting.  Please register online at https://forms.gle/YitDDXWW2Tk9DRVg8 by noon on Monday, October 12. A meeting invitation with the above on-line meeting link will be emailed to everyone that pre-registers.
Accessibility Accommodations and Other Assistance
To request accommodations for accessibility or a translator, please contact Katharine Otto (Katharine.otto@vermont.gov, 802-917-3451) by noon on Thursday, October 8th.
We recommend that attendees join the public hearing 5 minutes ahead of the start time to allow time to connect.
If you need assistance with connecting to the meeting, please contact Katharine Otto (Katharine.otto@vermont.gov, 802-917-3451).  We would be happy to set up a practice session if you want to check your ability to connect and can also provide some assistance on the day if you have problems.
Submitting Written Comments
Comments may also be submitted in writing prior to the Traffic Committee meeting by email or regular mail. Please submit written comments by October 8, 2020 to:  
Joe Segale, PE/PTP
Policy, Planning and Research Bureau Director
Vermont Agency of Transportation
219 North Main Street
Barre, VT 05641
802-477-2365
joe.segale@vermont.gov
Overview of the Vermont Automated Vehicle Testing Act
Vermont's Automated Vehicle Testing Act ("AV Testing Act") became law in June 2019 (23 VSA Chapter 41) and creates a permitting process to allow the testing of automated vehicles, often referred to as self-driving cars, on state and town highways. A testing permit is required from the Traffic Committee, whose members are the Secretary of Transportation, Commissioner of Motor Vehicles, and Commissioner of Public Safety. The Traffic Committee is authorized to issue testing permits for the state highway system, class 1 town highways which are the continuation of US and state numbered routes through municipalities, and class 2, 3, and 4 town highways in municipalities that have pre-approved testing on their roads.
Automated Vehicles Overview:  Equipment, Systems and Why Test in Vermont.
Automated vehicles are equipped with an automated driving system (ADS) that enables them to operate with little to no human assistance, with the use of cameras, radar, lidar (image sensing), GPS, and computer vision to sense their surroundings. ADS can carry out the real-time dynamic driving tasks required to operate a vehicle in on-road traffic. There are five levels of automation, and a permit from the Vermont Traffic Committee is required to test vehicles on state and town highways with level 3, 4, or 5 automation (highly automated).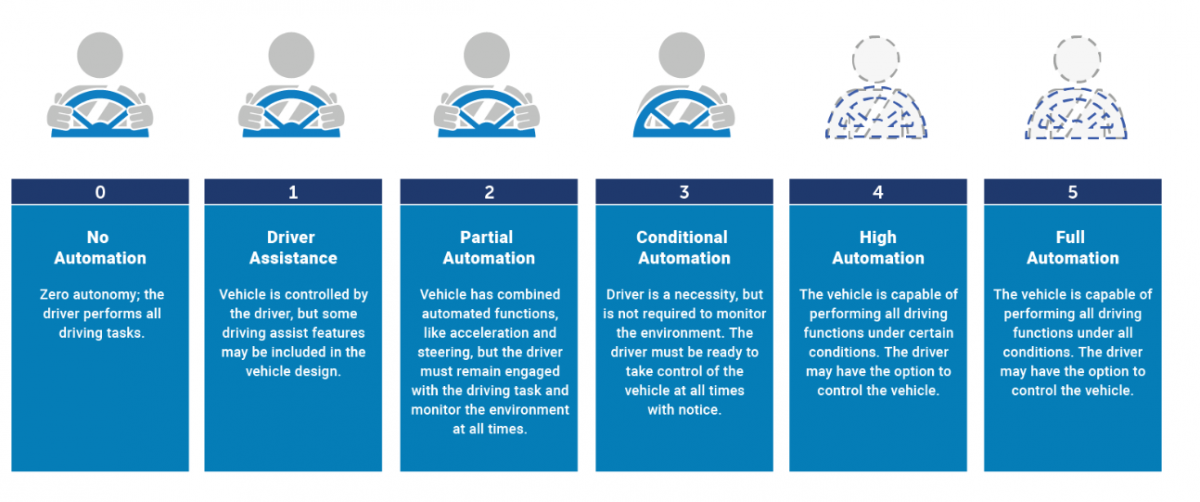 Figure 1: Levels of Driving Automation[1]
The Systems Behind Autonomous Vehicles
CAMERAS Provide a 360-degree view to detect traffic lights and road signs
LIDAR Laser scanner used to map surroundings in high definition
ARTICULATING RADARS Scan a wide field to monitor position of vehicles, pedestrians, objects
SHORT-RANGE RADAR Detects objects, pedestrians, vehicles near the car
LONG-RANGE-RADAR Measures speed of traffic down the road
VEHICLE LOCATION Information gathered from sensors plus GPS data determine the vehicle's precise location
HIGH-SPEED PROCESSORS Crunch data from sensors to direct the cars movements.
Sources of additional information on automated vehicles are provided below.
Why Allow Testing on Vermont Roads?
Opinions vary about the time it will take for automated vehicles to be deployed and in use by the general public. One forecast suggests that vehicles with some level of automation will increase to 40-60% of all vehicles on the road by 2050[2]. A more assertive forecast suggests that 95% of passenger miles travelled will be in automated vehicles by 2030[3]. Vermont needs to prepare for automated vehicles, which have the potential to improve safety, increase mobility for people who cannot currently drive, and reduce travel costs for Vermont households, businesses, and visitors. Like computers and smart phones, automated vehicles will become increasingly important to our economic vitality. Testing in Vermont will help build public confidence that automated driving systems are feasible in our rural, cold, hilly state, and along our famous "dirt" roads. Testing will also provide an opportunity for law enforcement, emergency responders, road crews, engineers, transit operators, and other stakeholders to learn and gain experience with the technology.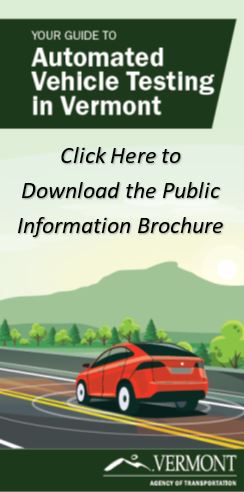 Additional Information
Preparing for Automated Vehicles in Vermont, A Report to the Vermont General Assembly https://legislature.vermont.gov/assets/Legislative-Reports/2017-Act-38-Sec-15-Automated-Vehicles-Report-to-Legislature-Jan-15-2018.pdf
National Highway Traffic Safety Administration  https://www.nhtsa.gov/technology-innovation/automated-vehicles-safety
National League of Cities Autonomous Vehicle Pilots Across America, 2018. https://www.nlc.org/sites/default/files/2018-10/AV%20MAG%20Web.pdf
National Association of Counties. Connected and Automated Vehicle Tool Kit. https://www.naco.org/resources/featured/connected-autonomous-vehiclestoolkit#link-1