This website provides a summary of the Agency of Transportation's research into methods to replace gas and diesel tax revenue that is not collected from electric vehicles, resulting in this final report (March 2022). It includes background information on the nature of the funding issue this study is seeking to solve, potential new funding structures for all-electric vehicles (AEVs), plug-in hybrid electric vehicles (PHEVs), and high-efficiency hybrids, as well as links to meeting materials for the RUC Advisory Committee, study work products and additional resources.
Background
Historically, federal and state gas taxes have generated roadway funding on the user pays principle, wherein the usage of gas has served as a reliable proxy for a driver's usage of (and impact upon) roads. Increasingly over time, however, greater differentiation in the size and fuel efficiencies of vehicles has shifted tax burdens from some groups to others while undermining the actual amount of funding available to maintain our transportation system for everyone's use. For example, some owners of older gas vehicles may be paying significantly more than those with newer electric or more efficient vehicles, at least with regard to their impact on the condition of our roads.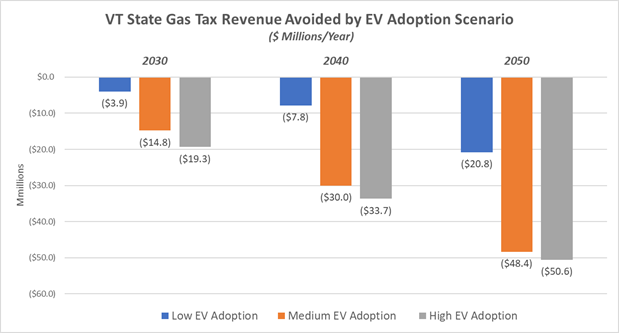 Over the last decade, the State of Vermont has implemented policies and programs to incentivize the purchase of electric vehicles by residents to help reduce greenhouse gas emissions from the transportation sector. These programs have supported the State of Vermont's progress toward climate change goals most recently updated in the 2020 Global Warming Solutions Act (Act 153, enacted in 2020). Yet because EV drivers do not pay any gas taxes and PHEV and hybrid drivers pay significantly less than those with an internal combustion engine vehicle (ICEV), alternate revenue sources and methods of collection are necessary to ensure that all users contribute their fair share to maintain, operate, and build the highway system. Less than 1% of all vehicles registered in Vermont are now AEVs or PHEVs, and the total impact on the State Transportation Fund is currently manageable. While the existing revenue gap that this group of vehicles creates may be justified by the broader goal of addressing climate change, the financial impact will only worsen as electric vehicles become more commonplace, incentivized by Vermont's policies and investments and technological advances that make them more competitive on the open market. To prepare for this looming challenge, the Vermont Agency of Transportation proactively sought proposals in the spring of 2021 to evaluate the feasibility of a Road Usage Charge system in Vermont, and its potential implementation either through a pilot program or broader policy application.
What is a Road Usage Charge (RUC) System and what is being considered?
A Road Usage Charge (RUC) seeks to replace the state fuel tax revenue otherwise lost from electric vehicles because they are not subject to the gas tax or that is reduced with hybrid vehicles which use less gas per mile than ICE vehicles. It can be in the form of a flat fee based on average annual miles traveled, a mileage-based fee reflective of actual miles traveled, or a kilowatt per hour fee which, like the gas tax, approximates miles traveled by the amount of fuel used.  It is strictly intended to account for each vehicle's use of Vermont roads.
A few state governments have set up new systems for collecting fees from electric and high-efficiency vehicles through one or a combination of these methods to ensure that each road user is contributing to road costs in rough proportion to their actual impact. This project will consider two major two major components: (1) a choice of a flat fee or mileage-based user fee for vehicles registered in Vermont (FF/MBUF RUC), and (2) a per kilowatt hour (kWh) fee (Per kWh RUC) collected at public charging stations as a means to capture road usage fees from electric vehicles registered out of state that are travelling on Vermont highways.
After considering expert analysis and public feedback, the RUC Advisory Committee will make recommendations on questions ranging from the setting of rates and fees; which types of vehicles, roads and users will  pay the RUC; to how to address privacy and transparency concerns; and how users, private vendors, and public agencies will all operate and interact in a newly designed RUC system. The work of the Advisory Committee will help inform a path forward for the State of Vermont to support the financial sustainability of its road system.
For a more thorough review of road usage charges and their possible implementation here in Vermont, click here.
Road Usage Charge Advisory Committee
VTrans has convened a group of stakeholders, the Road Usage Charge Advisory Committee, to assist with and help guide this effort. Their initial meeting convened on August 17th (see below), with two to three follow-up sessions expected to take place in the ensuing months. Video recordings and notes for these meetings will be posted below as they become available.
RUC Advisory Committee Meetings
Meeting # 1
VT Road Usage Charge Study - Advisory Committee Kick Off Meeting
Meeting # 2
September 29, 2021 Meeting Notes
Subcommittee Meeting on a per kWh fee
October 27, 2021, 2:30 - 4:30PM
Meeting Video Link: VT Road Usage Charge - per kWh Meeting (10/27/2021)
Meeting # 3
December 22, 2021, 2:30 - 4:00pm
Study Documents, Reports and Presentations
Public Input
If you would like to participate in this effort, provide feedback, or stay informed of any project developments, please  Please fill out this form..
Technical Proposal from Milestone Solutions
Introductory Presentation to the RUC Advisory Committee, 8/17/21
Presentation to the RUC Advisory Committee, 9/29/2021
Flat Fee and MBUF System Definition Memo
Additional Resources:
National Conference of State Legislatures: State Road User Charge Toolkit (ncsl.org)
Utah Department of Transportation: Utah's Road Usage Charge
Hawaii Department of Transportation: What is HiRUC? - HiRUC                 
Oregon Department of Transportation: OReGO: Oregon's Road Usage Charge Program
Mileage Based User Fee Alliance: Mileage-Based User Fee Alliance (mbufa.org)
The Eastern Transportation Coalition: Mileage Based user Fee Pilot Program: (tetcoalitionmbuf.org)
QUESTIONS
Patrick Murphy
Sustainability and Innovations Project Manager
Vermont Agency of Transportation
Email: patrick.murphy@vermont.gov
Phone: (802) 595-6738