Project Dates: Oct 1, 2017 - Mar 31, 2019
Project Description:
Effective performance measurement provides benchmarking for transportation agencies to promote transparency, accountability, cost-effectiveness, and process improvement. Vaisala's proprietary "Grip" measure provides an imputed measure of the condition of the road surface. VTrans' Average Distribution Deviation (ADD) measures changes in the distribution of vehicle speeds during and after winter weather events. This project found that ADD and Grip were relatively pooly correlated, indicating that each measure is independently useful and one cannot be used as a proxy for the other.
Poster: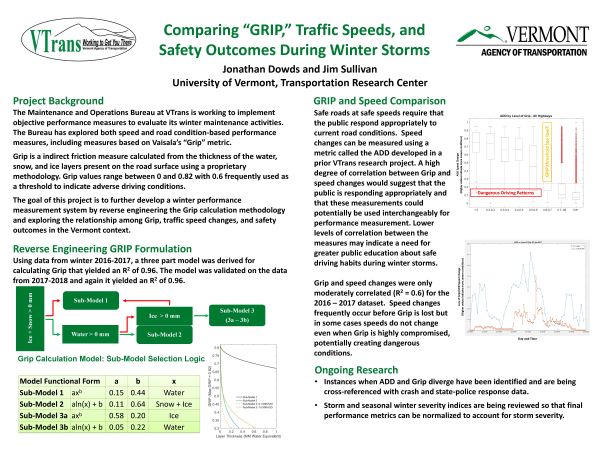 Factsheet                    Video                    Other
Reports                   Archived Documents
Related Symposium Pages
Researchers:
Jonathan Dowds and James Sullivan (UVM)
Champion(s)/TAC members:
Todd Law
Implementation:
**Posters, Fact Sheets, Presentation Recordings and Other Materials are prepared for our September Research and Innovation Symposium each year. This page includes the latest materials. Check back in September for updated materials related to this project.