Project Dates: Jul 1, 2019 - Jun 30, 2021
Project Description:
Reclaimed Stabilized Base (RSB) is a common technique utilized to rehabilitate roadways. RSB involved reclaiming the base materials and adding a stabilizing agent to increase the strength and durability of the subbase structure. VTrans has faced issues with the cement based stabilized technique in the past. It is essential to understand the RSB construction process to both determine if RSB is appropriate for a project, and subsequently choose the appropriate stabilizing agents and the mix design process. This project will investigate the suitability of the various stabilizing agents for common subbase materials encountered in Vermont roadways and develop a process for VTrans to determine the applicability of RSB for a project and the appropriate types and percentages of stabilizing agents. 
Poster: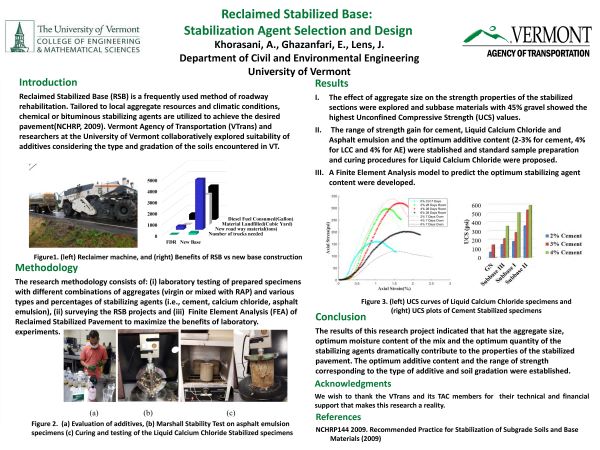 Final Report                   Archived Documents
Related Symposium Pages  
2021 Symposium   
2020 Symposium
Researchers:
Ehsan Ghazanfari and Ali Khorasani (UVM)
Champion(s)/TAC members:
Callie Ewald, Ian Anderson, Aaron Schwartz, Brandon Kipp, Matthew Bogacyzk, Ryan Darling
Implementation:
**Posters, Fact Sheets, Presentation Recordings and Other Materials are prepared for our September Research and Innovation Symposium each year. This page includes the latest materials. Check back in September for updated materials related to this project.