Project Dates: Jul 1, 2019 - Jun 30, 2021
Project Description:
Transportation networks have been recognized as contributors to water quality impairment by discharging stormwater, sediment, and nutrients to receiving waters. These contributions can occur through chronic inputs of water and pollutant washed from the road surface during storm events or through episodic and often catastrophic road failure by slope failure during extreme storms. Watershed planning efforts in the state call for attention to this issue, and the recently-released Phosphorous Total Maximum Daily Load (TMDL) for Vermont Segments of Lake Champlain calls for reductions in phosphorus contributions from the transportation sector. This project will assess road drainage-related erosion and the effectiveness of mitigation measures. 
Poster: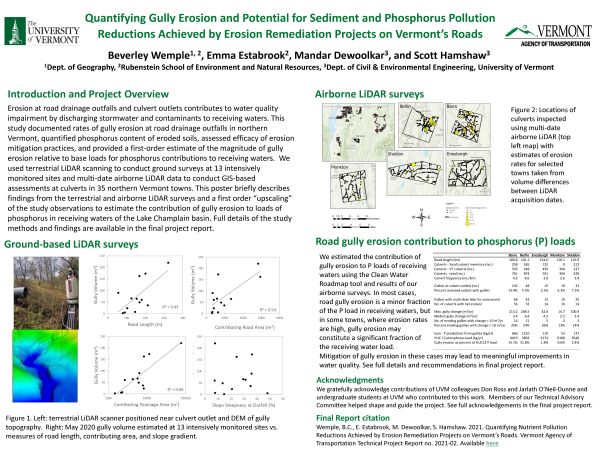 Factsheet                    Video                    Other                Archived Documents
Related Symposium Pages  
2021 Symposium   
2020 Symposium
Researchers:
Beverly Wemple, Mandar Dewoolkar and Emma Estabrook (UVM)
Champion(s)/TAC members:
Joel Perrigo, Jennifer Callahan, Ashley Bishop, Tyler Hanson, Alan May, Jim Ryan, Emily Shelley
Implementation:
Submitted project to 2022 AASHTO HVR
Presented to CCRPC Clean Water Advisory Committee on 5/4/21
Inquiries about project research from VT ANR DEC
**Posters, Fact Sheets, Presentation Recordings and Other Materials are prepared for our September Research and Innovation Symposium each year. This page includes the latest materials. Check back in September for updated materials related to this project.