Project Dates: Sep 1, 2018 - Sep 30, 2019
Project Description:
The 2010 Highway Safety Manual developed by AASHTO provides predictive equations for quantifying the safety effects of planning and designing roadway alternatives. These equations have been, however, developed based on data sets from a small number of states and they must be calibrated to local conditions in order to ensure that the results at the local levels are accurate. The HSM equations are a great tool to quantify safety, but because they are not calibrated for Vermont, VTrans has not been able to fully benefit from their use. Once VTrans has a calibrated set of equations, VTrans will be able to predict crashes more accurately and be able to better evaluate project alternatives.
Poster: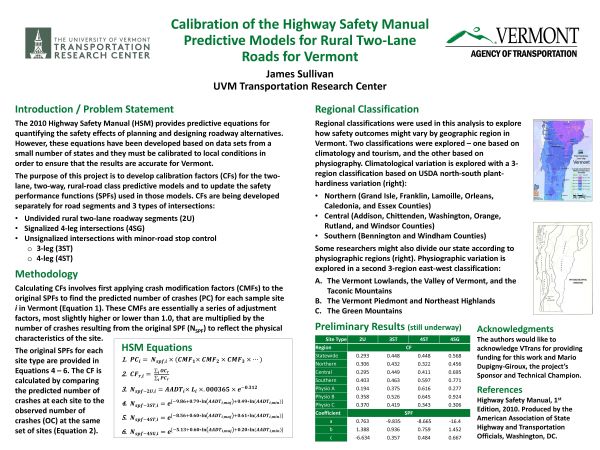 Reports                   Archived Documents
Related Symposium Pages
Researchers:
James Sullivan (UVM)
Champion(s)/TAC members:
Mario Dupigny-Giroux
Implementation:
**Posters, Fact Sheets, Presentation Recordings and Other Materials are prepared for our September Research and Innovation Symposium each year. This page includes the latest materials. Check back in September for updated materials related to this project.