Project Dates: Jan 1, 2018 - Dec 31, 2019
Project Description:
Poor compaction of roadway base and subbase can cause various types of deterioration/failure, which can consequently increase the cost of maintenance and rehabilitation. Non-uniformity and inconsistency of compaction are the most prevalent problems associated with conventional compaction techniques. Intelligent compaction (IC) is an innovative technology that can optimize the construction time, improve uniformity and consistency of compaction, and provide a system-wide stiffness-based inspection practice. Additionally, IC implementation allows for real-time monitoring and making informed decisions on proper course of action during compaction. This study assessed the suitability of IC implementation in Vermont projects.
Poster: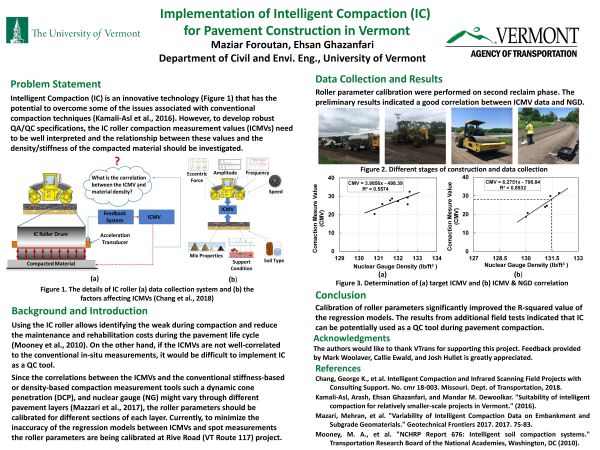 Reports                   Archived Documents
Related Symposium Pages
Researchers:
Ehsan Ghazanfari and Maziar Foroutan (UVM)
Champion(s)/TAC members:
Mark Woolaver, Callie Ewald
Implementation:
**Posters, Fact Sheets, Presentation Recordings and Other Materials are prepared for our September Research and Innovation Symposium each year. This page includes the latest materials. Check back in September for updated materials related to this project.