Colchester IM 089-3(69)
This Accelerated Bridge Construction project (coming soon) includes the replacement of four bridge decks on Vermont I-89 between exits 16 and 17 in the town of Colchester.  The 7 ½" concrete decks on Bridges 76N and 76S over Bay Road and Bridges 77N and 77S over Mallet's Creek will be replaced with 8 ½" precast Deck Panels.  TL-5 Concrete barrier and new expansion joints will also be installed as part of this project.  
Because of high traffic volumes during commuting hours, restrictions are in place for lane reductions.  Two-way traffic will need to be maintained between the hours of 6:00 am and 9:00 am for the southbound traffic and 3:00 pm and 6:00 pm for the northbound traffic during the week.  The contractor will have access to the bridges during non-peak hours with an anticipated closure of one weekend for each bridge to complete the work.  Crossovers will be used to maintain traffic during construction. 
Construction of the new bridge decks is anticipated to begin in April 2019 and be complete by December 2019.  Crossover construction and construction access in Mallet's Bay will be during the fall and early winter of 2018. 
Hartford IM 089-2(79)
Vermont's first bridge replacement project using Slide-In Bridge Construction took place over the summer of 2015.   This innovative means of bridge replacement allowed for great time savings and resulted in only minor impacts to this busy section of interstate.  The two bridges located on I91 in the town of Hartford were completely removed and replaced in just two weekends.  New bridges were constructed on temporary supports adjacent to the existing structures while crews worked on foundations for the new bridges underneath the existing  bridges.   Check out the aerial photo and the timelapse video  below and see just how easy it was to accomplish this innovative engineering feat!   Or, learn more about this innovative project on our Innovation page.
Slide in Bridge Construction video
Tapping into Modern Technology to Replace a Historic Structure, Brookfield 
The Brookfield Floating Bridge, originally constructed in 1820, is only one of three floating bridges in the United States.  Best known for its floating timber bridge deck, flanking sidewalks and bridge rail, the structure has been replaced 7 times since it was originally constructed as the floatation systems became waterlogged leading to the eventual sinking and failure of the bridge structure.  The new floating bridge, opened in May of 2015, utilizes a modern technology known as fiber reinforced polymer (FRP) for the floatation system.  FRP is extremely durable, corrosion resistant, and resistant to stresses and strains produced by ice loading and other lateral forces such as impacts from boats.  With its modular pontoon construction comprised of five FRP rafts, portions of the bridge can be disassembled and repaired, if necessary.  The new Brookfield Floating Bridge is expected to provide a service life of 100 years serving current and future generations of Vermonters and tourists alike.  For more information:  https://www.youtube.com/watch?v=aIaoHVqp1dk.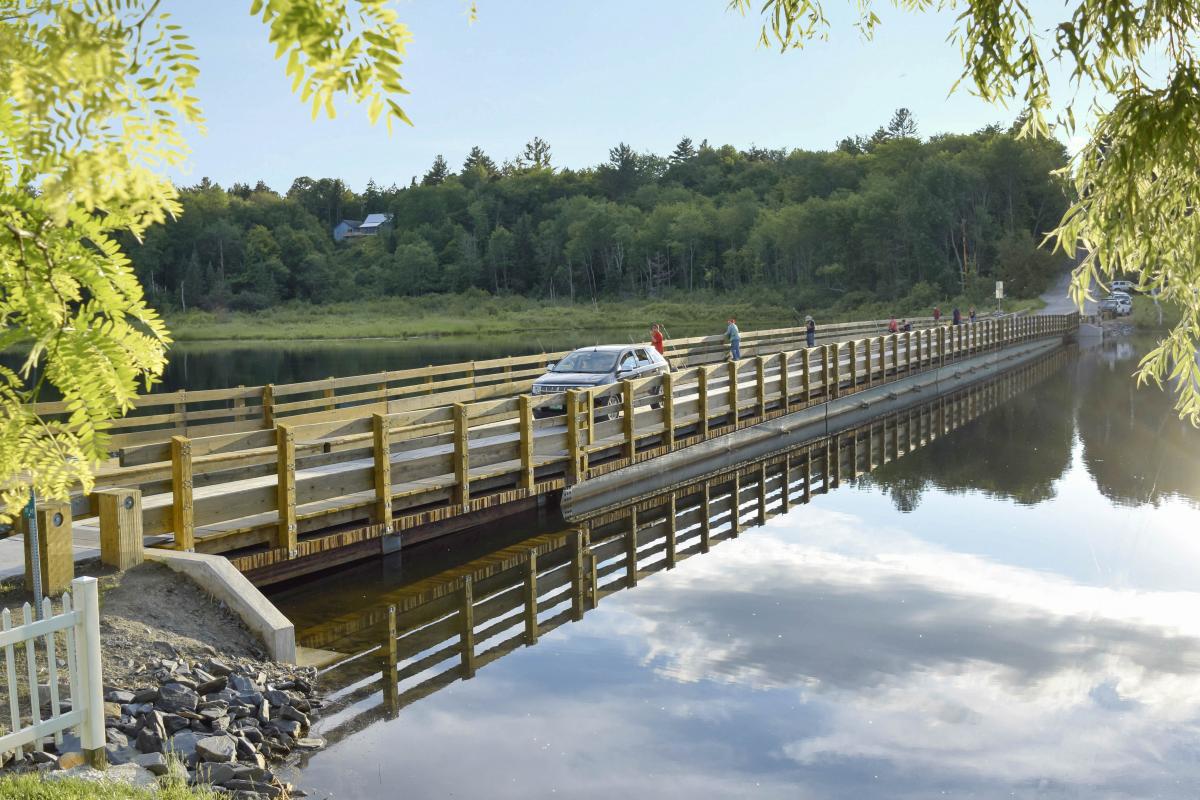 A Regionalized Approach to ABC, Rochester/Middlebury/Warren
Five bridges were replaced in record time using accelerated bridge construction methods and short term road closures including Bridge 13 on VT 125 in East Middlebury, Bridges 13, 15, and 16 on VT 73 in Rochester and Bridge 166 on VT 100 in Warren.  All five bridge replacement projects required significant coordination of the bridge closure periods and alternating detour routes.  For example, when VT 125 was closed, traffic was detoured onto VT 73.  To ensure the traveling public was well informed, various public outreach strategies were utilized including project factsheets, preclosure public information meetings, and a dedicated website and weekly email updates for real time information.  A public survey was distributed after construction to learn more about the public's perspective on using the ABC approach to replacing bridge structures, the techniques used to communicate with the public, and satisfaction with the new bridge structures.  Responses from a customer survey following the completion of the projects indicate that 83 percent of the 41 respondents were very satisfied with accelerated bridge construction and 74 percent were very satisfied with the information that they received about the projects during construction.