The Vermont Agency of Transportation (VTrans) is updating the Vermont Freight Plan and concurrently updating the Vermont Rail Plan.  These updates are closely related by the importance of freight moved by rail.
Vermont's highways and bridges, railroads, and airports all play a role in the transport of freight.  Freight can be many different things, from timber transported by truck to a sawmill for lumber production, to electronics ordered online and delivered to your doorstep.  Raw milk for cheese producers, hops for breweries, and the groceries you purchase at your local grocery store are all freight at some point.
PLAN DEVELOPMENT PROCESS

The Vermont Freight Plan identifies freight system issues and needs, and subsequent policies and strategies to guide freight-related transportation investments in Vermont.  The update of the Freight Plan will be guided by a Freight Plan Advisory Committee and outreach to public and private stakeholders.
PROJECT TIMELINE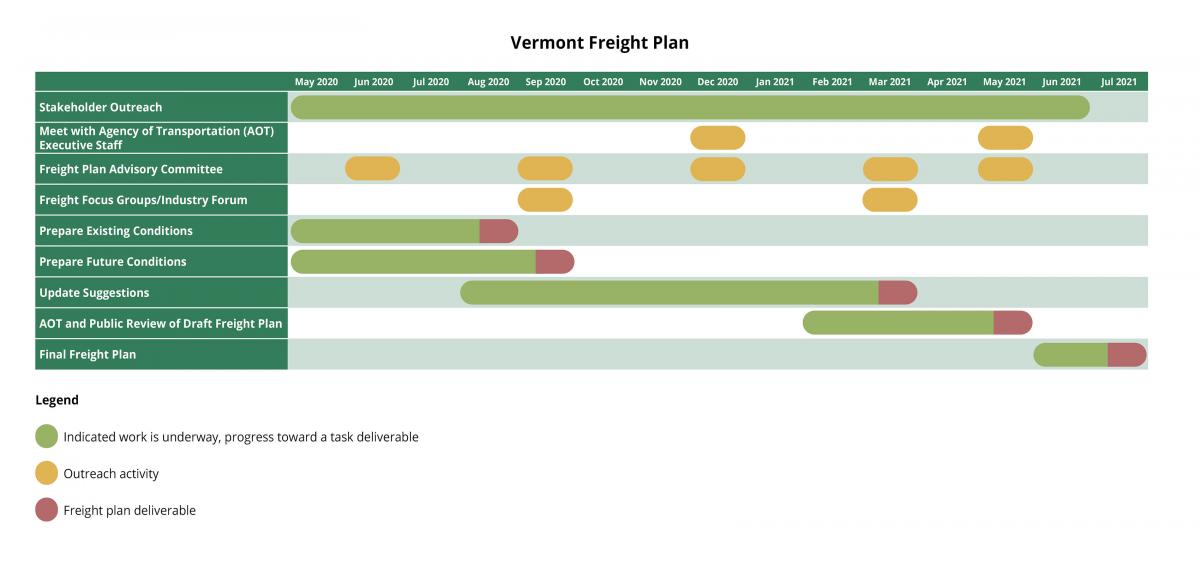 Newsletters and Outreach Material
Presentations
Freight Plan Advisory Committee (FPAC) Meeting #1 - presentation
Video of Town Hall #1 - Held October 06, 2020 (63mins)
Video of Presentation #1 (Extended Version) – Introduction, summary of data trends, how the update process will work, web map, and next steps (31 minutes)
Presentation #1 slide deck (Extended Version)
Technical Memos, Reports, Resources
Vermont Freight Data Trends for FPAC
Tech Memo #1: Existing Conditions
Data Trends Summary and Discussion Questions
Federal Guidance for State Freight Plans (49 U.S.C. 70202).  
Contact
Dave Pelletier, VTrans Planning Coordinator at dave.pelletier@vermont.gov or 802-595-9675