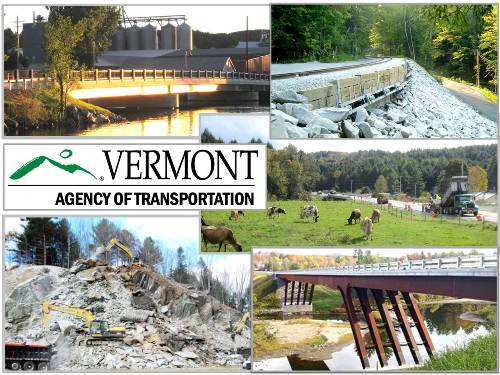 Rich Ranaldo, P.E., Construction Services Engineer
Phone: (802) 828-3564
Fax: (802) 828-2795
Rich.Ranaldo@vermont.gov
The Construction Services Section within the Construction and Materials Bureau supports the Construction Sections field inspection staff. This work is accomplished by subject matter experts in the areas of Paving, Structures, Environmental Compliance, Specifications, and Safety Compliance. Their work includes, but is not limited to: field inspection, review of plans and fabrication drawings, development of specifications, contract review, guidance, and facilitation between State and Federal regulatory agencies. In addition, the Finals Unit of the section is responsible for auditing field records and ensuring final payment made to contractors is executed in accordance with the contract documents. The Finals Engineer is also responsible for archiving project as-built plans and records.
The Construction Services Section provides support services to the resident engineers by supplying subject matter experts in Environmental Engineering, Paving, Construction Safety, Structures and Water Testing. In addition, the Construction Services Section includes a Finals Engineer, whose role it is to negotiate final project quantities and authorize final payments to contractors, when all requirements have been met.
Environmental
William Farley, P.E.,
Construction Environmental Engineer
Phone: (802) 279-8143
William.Farley@vermont.gov
Finals
Eric Fontana, P.E.,
Construction Finals Engineer
Phone: (802) 828-0105
Eric.Fontana@vermont.gov
Paving
Mark Woolaver,
Construction Paving Engineer
Phone: (802) 828-1475
Mark.Woolaver@vermont.gov
Pre-Contract and Specifications
Wendy Ducey,
Pre-Contract and Specifications Manager
Phone: (802) 279-1417
Wendy.Ducey@vermont.gov
Safety
Nate Robinson,
Construction Occupation Safety Technician
Phone: (802) 272-2706
Nathaniel.Robinson@vermont.gov
Structures
Robert Klinefelter, P.E.,
Construction Structures Engineer
Phone: (802) 595-4403
Robert.Klinefelter@vermont.gov
Water Testing
Jesse Ives,
Construction Finals Technician
Phone: (802) 828-0186
Jesse.Ives@vermont.gov